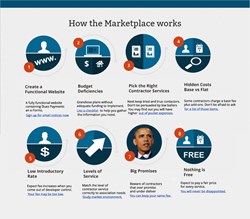 Rinaldo Acri says "The goal of the HOA is to enhance property values for all homeowners, not help a particular group of owners or to do what is "fair".
Pittsburgh, PA (PRWEB) November 20, 2013
Acri Pittsburgh Property Management has just released findings comparing the Affordable Care act to Association Management. They have outlined 8 Lessons Homeowners Associations can learn from ObamaCare along with helpful implementation suggestions.
Rinaldo Acri says, "The goal of the HOA is to enhance property values for all homeowners, not help a particular group of owners or to do what is 'fair'."
Below are 8 ObamaCare issues Associations need to understand:
1. Homeowners Website: Make sure you have an HOA website that is fully functional and easy to use. Providing electronic e-Forms and a Dues Payment Portal are essential components.
2. Budget deficiencies: Grandiose plans without adequate funding to implement projects risks association financial ruin.
3. Contracting: Keep tried and true contractors. Don't be persuaded by low ballers.
4. Hidden costs: Some contractors charge a flat fee. Others charge a base fee plus add-ons. Those extras could turn out to be quite expensive. Don't be afraid to ask for a list of "uncovered services".
5. Beware of the low introductory rate: If your fee set by the developer seems too low he may be subsidizing services with reduced contributions to the reserve. Expect fee increases when you come out of developer control.
6. Service Levels: One size fits all does not apply here. Each association has specific needs and goals. Match the level of contractor service correctly to association needs and the market environment.
7. Big Promises: Beware of contractors that over promise and under deliver. Use realistic assumptions when budgeting.
8. Nothing is free. Expect to pay a fair price for every service and you will never be disappointed.
In summary, while an HOA is a quasi-governmental organization, the use of prudent business concepts, not governmental dogma, is essential to maximize real estate values for ownership.
About Acri Community Realty:
Acri Community Realty, located in the Greater Pittsburgh Area, specializes in pro-active property management in re-active times.
Acri is known for the great care and pride in the work done to protect and enhance the value of your investment. They have the privilege of managing a diverse portfolio of properties while caring for each and every home like it is their own.
If you've had any issues with your HOA that you'd like Acri to try and delve into, and possibly write about later contact us via our website at Acri Community Realty. We are interested to hear about your experiences and how an association has helped or hurt you.
Be sure to follow Acri Community Realty on facebook and twitter to stay abreast of issues involving association living.