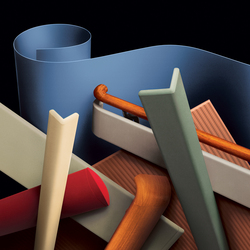 the first in the industry to commit to completely removing PVC from its wall protection line
Muncy, PA (PRWEB) April 28, 2010
Acrovyn 4000 from wall and door protection experts, Construction Specialties, was introduced at the 2009 GreenBuild International Conference and Expo in Phoenix, AZ. This revolutionary wall and door protection line contains no PBTs (persistent bioacummulative toxins), is completely free of PVC and BPA (bisphenol A), and offers the same high-impact strength and UL Class 1 fire rating as original Acrovyn.
Acrovyn 4000 is an engineered PETG compound that provides the environmental benefits of traditional PETG. After extensive research C/S engineers were able to make appropriate modifications to eliminate the brittleness and color consistency issues often associated with more common PETG material. Acrovyn 4000 can be specified and installed with confidence in any area where traditional Acrovyn would be used.
As the global leader in wall protection, C/S is very proud to be the first in the industry to commit to completely removing PVC from its wall protection line. This environmental commitment becomes increasingly important with the LEED Pilot Credit for PBT Source Reduction on the horizon. Acrovyn 4000 has earned MBDC Cradle to Cradle: Silver Certification (Gold level is anticipated by June 2010) and meets California 01350 protocol for good indoor air quality.
To enhance aesthetics and improve cleanability, Acrovyn 4000 also features a new contemporary texture overwhelmingly preferred by owners and designers. The less agressive texture provides a safe gripping surface on handrails and hides abrasions on wall guards, while an even less pronounced texture on rigid sheet and wall panels provides the desired paint-like appearance for wall surfaces.
Through all these improvements, C/S continues to maintain the tight color and gloss level tolerances the industry has come to expect and guarantees the same price and performance levels original Acrovyn has offered for more than 40 years.
For more information on all C/S Acrovyn 4000 products, call 800-233-8394 or visit our website.
Find us on: LinkedIn, Facebook and Twitter.
Construction Specialties, Inc. manufactures and sells specialty architectural products internationally, with over 30 offices and manufacturing facilities worldwide. Its products include interior wall and door protection, entrance flooring, expansion joint covers, louvers, grilles, sun controls, explosion vents, smoke vents, and cubicle track/curtains. The company serves architects and designers, building owners, facility managers, and contractors. Construction Specialties International, Inc. was founded in 1948 and is headquarterd in Lebanon, New Jersey.
###