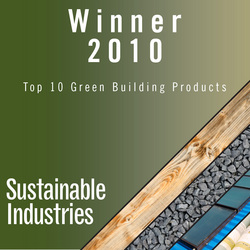 Acrovyn® 4000 shows how toxic materials can be removed from products. We can change the way things are made. We can make a difference in the manufacturing process.
Muncy, PA (PRWEB) July 6, 2010
Acrovyn 4000 wall and door protection from Construction Specialties, Inc. was just named a Top 10 Green Building Product of 2010 by Sustainable Industries magazine. Winners were selected by a panel of experts and the magazine's editorial staff based on the following criteria: environmental performance, scalability/market impact, innovation, design aesthetic, value and compatibility with USGBC's LEED® Rating System.
Winners were announced on Tuesday, June 22, in a webinar hosted by Sustainable Industries and its panel of expert judges. Acrovyn® 4000 was chosen primarily because of the reduction of toxins in the product. Judge Kris Kimble, CEO of Green Hive, said "Acrovyn® 4000 shows how toxic materials can be removed from products. We can change the way things are made. We can make a difference in the manufacturing process." All of the Top 10 products selected this year can be seen in Sustainable Industries' annual "Top Ten Green Products Guide" as well as the July issue of the magazine.
As the global leader in wall protection, C/S is very proud to be the first in the industry to commit to completely removing PVC from its wall protection line. Acrovyn® 4000 wall and door protection contains no PBTs (persistent bioacummulative toxins), is completely free of PVC and BPA (bisphenol A), and offers the same high-impact strength and UL Class 1 fire rating as original Acrovyn®. To enhance aesthetics and improve cleanability, Acrovyn® 4000 also features a new contemporary texture overwhelmingly preferred by owners and designers. Through all these improvements, C/S continues to maintain the tight color and gloss level tolerances the industry has come to expect, while guaranteeing the same price and performance levels original Acrovyn® has offered for more than 40 years.
In addition to the Sustainable Industries award, C/S was recently honored by Practice Greenhealth with its Champion for Change award for the second consecutive year. This award recognizes businesses that have greened their products and operations, while helping their clients in the healthcare industry to do the same. C/S also has been honored by the State of Pennsylvania with its Governor's Award for Environmental Excellence and was a finalist in the Nature Conservancy's Investing in Nature award last year.
These awards are a testament to C/S' commitment to the environment. They show a history of responsible product design and manufacturing that substantiates its environmental claims. C/S continues to look for ways to lower its environmental impacts and have a positive influence on the communities in which they operate.
Construction Specialties manufactures and sells specialty architectural products internationally, with over 30 offices and manufacturing facilities worldwide. Its products include interior wall and door protection, entrance flooring, expansion joint covers, louvers, grilles, sun controls, explosion vents, smoke vents, and cubicle track/curtains. The company serves architects and designers, building owners, facility managers and contractors. Construction Specialties, Inc. was founded in 1948 and is headquartered in Lebanon, New Jersey.
Find us on: LinkedIn, Facebook and Twitter
For more information visit our website or call our office at 800-233-8493.
# # #