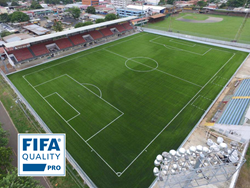 Act Global is dedicated to constant research, testing and product development to ensure their playing surfaces deliver top performance.
Austin, Texas (PRWEB) September 06, 2016
San Francisco Fútbol Club players just got a home turf upgrade, with the recent FIFA Certified synthetic turf installation at Estadio Agustín Muquita Sánchez in Panama.
The pitch is the first in the country certified to FIFA Quality Pro, the highest ranking for artificial football turf. With the certification, the professional training grounds meet top criteria in quality and sports performance as one of the region's finest playing surfaces.
Estadio Muquita Sánchez is central to the Panama sports community, hosting both professional and local club matches, including highly ranked professional San Francisco F.C. The team has won nine championships in the top tier Liga Panameña de Fútbol (Panamanian Football League), the third highest total of any team since 1988.
The new sports turf, called Xtreme Turf DX, was manufactured by Act Global at their USA facility under ISO 9001 quality standards. Featuring an exclusive monofilament yarn blend, the DX system lends an ideal balance of performance, durability and player comfort to meet the needs of this elite sporting facility.
Guillaume Loubersac, technical director for Act Global, said the company is dedicated to constant research, testing and product development to ensure their playing surfaces deliver top performance. And as a FIFA Preferred Producer for Football Turf, Act Global's Xtreme Turf systems are expertly designed to meet the particular needs of the sport and its players.
"We continue to see demand grow for better performing artificial sports turf, as buyers recognize that higher quality products produce longer lasting fields, with better performance and safety," said Loubersac. "Through our commitment to the best synthetic turf technology, combined with trusted partners, we can deliver the best playing surfaces to players around the world."
"We are honored to have top football players from San Francisco F.C. on Xtreme Turf", said Loubersac.
The pitch was completed with regional partner Tecnología Sintética Deportiva (TSD, S.A), a leading synthetic turf installer in Panama. TSD performed all site construction and installation, including removal of existing turf, leveling of the base, installation of the turf, and finishing the pitch with infill.
Labosport, a FIFA-accredited testing laboratory, completed final on-site evaluation to verify pitch performance. Measurements were recorded against natural grass benchmarks for shock absorption, pitch consistency, traction, ball behavior and more. The football pitch passed on all measures to achieve FIFA Quality Pro Certification.
Act Global and partner TSD will co-host a FIFA Seminar September 5-6 in Panama City, with a portion held at Muquita Sanchez. FIFA representatives will be on site to help lead the 2016 Seminar Training of the FIFA Quality Programme for Football Turf, covering basics for tendering, system design, pitch construction, testing and maintenance.
About Act Global
Act Global is a world leader in synthetic turf technology, with manufacturing facilities on three continents and sales in more than 70 countries. The company carries a full range of products for sports (Xtreme Turf and Xtreme Grass), landscaping (Xtreme Lawn), aviation (AvTurf) and land reclamation (LiteEarth). Act Global is a FIFA Preferred Producer for Football Turf, Synthetic Turf Council Certified Manufacturer, World Rugby Preferred Turf Producer, FIH Preferred Supplier, and holds ISO 9001 Certification. Its products have undergone hundreds of independent laboratory tests for quality, durability, safety, environmental soundness and performance. For more information, visit http://www.actglobal.com