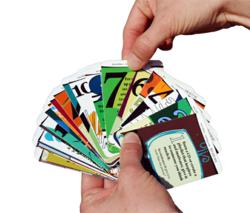 Boom Boom! Cards are the silver lining in the cloud, a reminder that big or small, kind actions have lasting impact.
Santa Cruz, CA (PRWEB) April 28, 2011
A child in Cincinnati, Ohio, whose heart was broken by watching the devastation wrought by the tsunami in Japan, wanted to do something to help. Looking for inspiration, he turned to the Family Deck of Boom Boom! Cards his mother bought for him, and found it on Card #9. It read, "Be enterprising as a family (hold a yard sale, have a car wash, create a sidewalk lemonade stand), and divide the proceeds among family members so each person can donate their share to an organization they want to support." So, he decided to set up a lemonade stand in his neighborhood. In his "Lemonade for Japan" act of kindness post on http://www.boomboomcards.com, he shares that $81 was earned from two hours of sales, which he happily donated to the Red Cross. A simple reminder that it's not about how much you can give; it's about doing what you can.
A teenager in Burlington, Ontario, Canada, was aware that her younger sister was feeling a little down on herself due to being bullied in school. In considering the ways she could reach out to show her love and support, she remembered a Teen Deck Boom Boom! Card that had been passed along by her leadership teacher earlier in the year. Card #3 reads, "Put a note in someone's locker (or on their desk, in their backpack… anywhere they are sure to find it as a surprise) that tells them how great they are and why the world is a better place with them in it." In her "Good Morning Letter for You, Doll," act of kindness post, she shares that she crafted a beautiful note to bring a smile to her sister's face and left it taped to the bathroom mirror for her to find first thing in the morning.
In a world where the magnitude of events occurring is so intimidating that one easily gives up on the notion that a small act of kindness can instigate colossal waves of positivity and change, Boom Boom! Cards are the silver lining in the cloud, a reminder that big or small, kind actions have lasting impact.
Each deck of Boom Boom! Cards contains 26 individual acts of kindness to be performed and then 'paid forward.' The cards can be registered online in the Boom Boom! Community, at BoomBoomCards.com, where agents of altruism post stories, videos, pictures, and track the cards as they get passed along all over the world. For more information on Boom Boom! Cards, please visit http://www.boomboomcards.com.
About Boom Boom!
Boom Boom! Revolution (BBR) is a social innovation company, founded in 2006. They create positive consumer products with the intention of inspiring an uprising of guerilla goodness. Boom Boom! Cards are the flagship product; they showcase a combined real world and online social network linking players globally through random acts of kindness that are paid forward. BBR is a 4th Sector Corporation, For Profit For Good. Boom Boom! Cards are made from 30-100% post consumer recyclable materials. Ten percent of the purchase price is donated directly to the charity of the purchaser's choice. The BBR community can be found at http://www.boomboomcards.com.
Media Contact
Alecia J. Shaver
Account Executive
lotus823
Office: 732.212.0823
Email: alecias(at)lotus823(dot)com
###