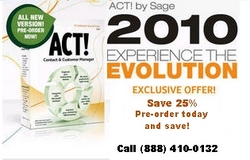 Dallas, TX (PRWEB) September 1, 2009
Bridge Concepts, Inc. is working with Sales Mastery Consultants, Inc. to offer a combination of technology (ACT! 2010) and methodology (Sandler Sales Training) to help improve sales in 2010. There will be two seminars in Dallas on September 17th, 2009 and two seminars in Fort Worth on September 22nd, 2009. All four seminars will be the same, and it is offered in the morning and the afternoon in each city.
ACT! has been the top selling contact management software for years, and the newest release, ACT! by Sage 2010 will be shipping to the public this fall. The new features include: E-Marketing, Social Networking links (LinkedIn, Facebook, etc.), Customizable Opportunities, New Dashboard, and Calendar invitations.
Bridge Concepts, Inc. is a team of ACT! Certified Consultants and ACT! Premier Trainers in Dallas and Fort Worth, and they will be offering a free preview of ACT! 2010 as well as answering questions about the new product. Bridge Concepts, Inc. specializes in implementing ACT! for companies by customizing the software to their specific needs, training the company how to use the database correctly and efficiently, then providing ongoing technical support.
Sandler Training is a world leader in innovative sales and sales management training. For more than 40 years, Sandler has taught its distinctive, non-traditional selling system and highly effective sales training methodology, which has helped salespeople and sales managers take charge of the process.
Sales Mastery Consultants, Inc. is an authorized franchisee of Sandler Training located in Arlington, TX. They work with companies that are frustrated with their sales numbers to implement a process and a sales methodology. Through continued support and follow-up sessions, Sandler Training helps sales professionals and management executives fulfill personal and organizational goals, from initial hiring decisions to performance evaluations, from building and executing strategic sales plans to motivating people to achieve them, from understanding information technologies to tailoring these powerful tools to support clients' specific opportunities.
For more information about the upcoming seminars, please visit http://www.bridgeconcepts.com/ACT2010.htm
###