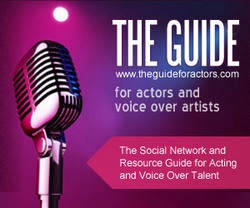 With the seemingly endless supply of people trying to pursue a career in acting and voice overs, the competition can be staggering even for a non-paying role on a student film project let alone for something more lucrative such as a national TV commercial
Los Angeles, CA (PRWEB) April 19, 2010
TheGuideForActors.com is a niche social networking site designed to provide actors and voice over artists with a platform to showcase themselves and their work especially to talent agents and managers looking for new artists to represent. Trevin Hartwell, the founder of the site commented, "With the seemingly endless supply of people trying to pursue a career in acting and voice overs, the competition can be staggering even for a non-paying role on a student film project let alone for something more lucrative such as a national TV commercial or spot on a hit television series." To get those more lucrative roles it typically requires the help of a talent agent, Hartwell explained, and with such a deep and wide pool of talent in Los Angles, New York and in other markets across the U.S. and abroad, actors and voice over artists increasingly have to find more ways to self promote and to get noticed.
It's free to join the site and to create a basic member profile which among other things gives users the ability to build their resume, upload a headshot, and to fill in details about their interests. For a low monthly fee, users can choose to upgrade to a featured membership which will enable them to upload multiple headshots to display a variety of looks, upload video reels, and write a blog which has proven to be an effective way for people to increase their exposure and following on the Internet. A number of actors and voice over talent have begun to invest in having their own Web site, but for those who cannot afford that option or who don't believe they have enough credits, notoriety, or name recognition to draw attention to their own site to make it worth the investment, a featured profile on TheGuideForActors.com is a low cost alternative for maintaining a professional presence on the Web.
In addition to creating their own profiles users can create group pages around common interests to network and to organize meetings, participate in forum discussions, find acting books and other resources, and write reviews on businesses that provide products and professional services to acting and voice over talent.
TheGuideForActors.com contains a directory of businesses that cater exclusively to actors and voice over talent providing services such as acting classes, voice over training, and headshots among a host of other services. Most of the businesses in the directory are based in Los Angeles and New York, but the site intends to expand its listings with businesses in other major talent markets in the U.S. and abroad. Users can also recommend that a business they wish to review be added to the directory.
TheGuideForActors.com is an ideal place for these businesses to reach their target audience and market what they have to offer for little or no money. For example, acting schools and coaches can create a group page to promote their acting classes and workshops and invite their current and former students to join their page so that when prospective students look for information about their school they will find profiles and reviews written by actors who have actually taken their classes. It has been often said, there is no better advertisement than happy customers singing your praises.
The site was recently launched and is in the process of expanding its user base. Hartwell commented, "once people discover the site and begin to contribute content, it will be one of the most dynamic and resourceful tools on the Internet for those in the acting and voice over professions. So people should join the site today."
###