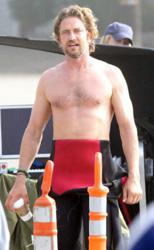 Los Angeles, CA (PRWEB) December 20, 2011
ExploreTalent.com, a premier online social-network for industry insiders, announced a new blog on their news site today, titled, "Gerard Butler Almost Drowns While Shooting Surfing Pic." Explore Talent is a professional site that connects actors, models, musicians and dancers in the United States. The company posts blogs on their site, so that members can stay up to date on celebrity news. The online community has been responsible for new collaborations and business ventures in entertainment. Explore Talent is responsible for countless models and actors getting acting auditions and modeling auditions by finding out about casting calls. Explore Talent also helps aspiring entertainment professionals further their careers with contests that showcase their profiles to members of the social media community. Furthermore, the Explore Talent site features celebrity videos, exclusive interviews with actors, actresses, and musicians, such as Joan Rivers, Usher, Akon and T-Pain.
The blog details that according to the San Mateo Times on December 19, 2011, while filming the part of Frosty Hesson, a Pleasure Point surfer in the upcoming motion picture, "Of Men and Mavericks," actor Gerard Butler attempted show off his surfing skills, going out into the North California Ocean with competitive surfers Greg Long, Zach Wormhoudt and Peter Mel. While the film crew was trying to get a shot of the actor surfing at Mavericks, a surfing spot north of Half Moon Bay, notorious for one of the biggest wave surfing experiences in the world, nature decided to treat Butler as a real surfer, and show him the true dangers of the sport.
While trying to avoid big waves nearby, Butler and the other surfers got pounded by a large set of waves. He was held underwater by two giant waves, and hit rocks, all while still tethered to his surfboard.
Luckily, a safety patrolman was nearby, and rescued Butler, who was then taken to a local hospital for observation, and quickly released.
Explore Talent's proprietary software and vast infrastructure is the most advanced entertainment-based technology of its kind. The site's popularity is based on the fact that there are many ways for talent to network, make friends and connect with other industry players, participate in wide variety of contests and earn prizes for being active on the site. The easy access to a pool of six million members attracts industry players who are posting every month about 50,000 new auditions and job openings which is 30 times more than any other site.
For more information on this blog, or Explore Talent, go to http://www.ExploreTalent.com.
###