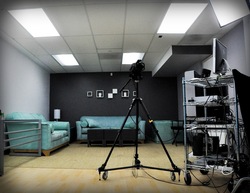 "Going to these workshops and watching myself on video through the audition process gave me insight on what I really needed to do to book commercials. Treating the workshop like a real audition opened my eyes to things I never was aware of..."
Santa Monica, CA (PRWEB) May 26, 2010
The Santa Monica Acting Intensive has opened it's doors at Envision Studios in beautiful downtown Santa Monica. A premiere acting seminar that provides the necessary tools for real booking success. Learn how to audition, get the part, and understand how casting decisions are made. Be seen by more then 10 Casting Directors and Producers from across the country. Perform on tape before an expert panel and review and analyze your audition - as well as your peers'. Perfect the audition process, learn why certain actors get the job, and be seen and taught by 3 of the Industries top professionals.
James Reese, Matt Shadow, and Ryan Malleus lead the panel in a very fun and thoughtful way of finally giving something back to the actor. "...James is a fantastic acting coach. No one understands it better then him. He can look at sides, see what is needed, and help the actor get there. He is always my first recommendation. And if I had any talent, I would use him to polish it!..." Ross Lacey, Casting Director.
Matt Shadow is a young business savy producer that understands not only the business of film, but has compassion for the actor. "I've been to more acting workshops then I can remember, and all anyone cares about is taking money from struggling actors. So I thought why not do something that not only helps the actor be seen, but is fun and memorable. All at a reasonable price," said Matt when asked why he started the Santa Monica Acting Intensive.
Ryan Malleus has recently been named the Director of Operations for Envision Studios. Another young industry professional with a very bright future. Ryan has over 3 years of casting experience and last year alone was apart of over 200 national commercials. "...With Ryan on the ground in Los Angeles, our clients will continue to get the best in casting and technical resources. His background in the fast-paced, demanding world of TV production also serves him well. We're thrilled to have him," Morgan Forrester Partner Envision Studios.
The Santa Monica Acting Intensive also adds a nice twist to their workshop. During the Commercial Intensive, the panel will choose the actor they would've cast for the role. The winner not only receives 50% back on their workshop price, but their headshot gets placed on the cover of their website. Just another way they give back to the actor!
###