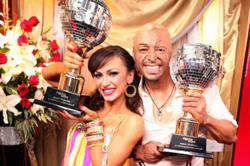 "Oh man, you know what? First and foremost, I want to thank everybody who voted for us for 10 weeks. Thank you America for believing in us...," said Martinez
Los Angeles, CA (PRWEB) November 23, 2011
Explore Talent, a premier online social-network for industry insiders, announced today a new blog on their celebrity news site, "J.R. Martinez and Karina Smirnoff Winners of Dancing With the Stars." Explore Talent is a professional site that connects actors, models, musicians and dancers in the United States. The company posts blogs on their site, so that members can stay up to date on celebrity news. The online community has been responsible for new collaborations and business ventures in entertainment. Explore Talent is responsible for countless models and actors getting acting jobs and modeling jobs through casting calls. Explore Talent also helps aspiring entertainment professionals further their careers with contests that showcase their profiles to members of the social media community. Furthermore, the Explore Talent site features celebrity videos, exclusive interviews with actors, actresses, and musicians, such as Joan Rivers, Akon and T-Pain.
The blog details that Tuesday night marked the final night of competition of the 13th season of the hit reality program, Dancing With the Stars. Of the original twelve celebrity contestants, Carson Kressley, Chaz Bono, Chynna Phillips, David Arquette, Elisabetta Canalis, Hope Solo, J.R. Martinez, Kristin Cavallari, Nancy Grace, Ricki Lake, Rob Kardashian, and Ron Artest, only three remained in the finals. The three couples competing were ex-talk show host, Ricki Lake and her partner, Derek Hough, the only brother of the Kardashian clan, Rob Kardashian and his partner, Cheryl Burke, and war hero, motivational speaker, and actor, J.R. Martinez, and his partner, Karina Smirnoff.
After 10 weeks of competition, the three finalists performed one last dance, after which it was announced that Ricki Lake and Derek Hough would be in third place. That left Kardashian and Martinez to compete for the coveted Mirrorball Trophy. After both performed the samba, and both got perfect scores, all tens from all three judges, the two couples awaited their fate.
Soon, it was announced that J.R. Martinez and his partner, Karina Smirnoff won the 13th season of Dancing With the Stars. It is the first win for Karina, who has been with the show since day one.
"Oh man, you know what? First and foremost, I want to thank everybody who voted for us for 10 weeks. Thank you America for believing in us, and I want to say you [Karina] are amazing, and I'm so grateful that I was able to be a part of your first Mirrorball trophy. Thank you very much!" Martinez said on the show.
Explore Talent's proprietary software and vast infrastructure is the most advanced entertainment-based technology of its kind. The site's popularity is based on the fact that there are many ways for talent to network, make friends and connect with other industry players, participate in wide variety of contests and earn prizes for being active on the site. The easy access to a pool of six million members attracts industry players who are posting every month about 50,000 new auditions and job openings which is 30 times more than any other site.
For more information about this release or Explore Talent, go to http://www.ExploreTalent.com.
# # #