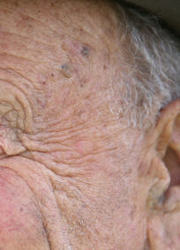 For most patients, the Actinic Keratosis Peel has medical insurance coverage.
Laguna Niguel, CA (PRWEB) December 25, 2009
Dr. Lenore Sikorski has garnered exceptional success in AK control with her specialized Actinic Keratosis Peel. For most patients, the procedure has medical insurance coverage.
Pre cancers are a result of long term sun exposure and if left untreated can progress to skin cancers in a percentage of cases. In Southern California the incidence of skin cancer is growing, especially for men and women who are active in outdoor sports or have spent years tanning.
"Patients should pay attention to changes in their skin," advises Dr. Sikorski. "Actinic Keratosis will often present first as rough patches that are felt before they are seen. Early treatment can resolve AK lesions before they turn into skin cancer."
What is the Actinic Keratosis Peel process? Dr. Sikorski will first use 15% trichloracetic acid (TCA) to cause destruction and peeling of the abnormal cells. Immediately following application of TCA a cold compress reduces heat sensation which occurs as the lesions respond to the chemical. Finally a layer of 5-FU cream is applied to fully attack and destroy any pre-cancerous lesions.
"An AK Peel will cause some redness and peeling," Dr. Sikorski explains, "but this is much preferred to surgical procedures later on that may require excising skin and risking scarring - or dealing with potential skin cancer which could metastasize."
Actinic Keratosis tends to be a recurring problem and to fully control their reappearance, Dr. Sikorski notes that regular peel treatments are usually necessary. A consistent program will keep the skin clear and help prohibit the progression of pre-cancer to cancer.
The Actinic Keratosis Peel can be used on all exposed areas which typically develop AKs - the face, scalp, chest, arms and legs. A bonus of the treatment is improved overall skin quality and tone. TCA peels have traditionally been used as cosmetic procedures for sun damaged skin to lessen wrinkles, discoloration and skin roughness.
Dr. Lenore Sikorski is a dual Board Certified Dermatologist and Cosmetic Surgeon with a subspecialty in Mohs Micrographic Surgery. She is a member of the American Society for Dermatologic Surgery, a Hospital Consultant for Hoag Hospital and Mission Hospital and an Associate Clinical Professor for the University of California Irvine Department of Dermatology. She maintains a private medical and surgical dermatology practice and an associated cosmetic surgery practice focusing on facial plastics.
Dr. Sikorski's medical practice, Natural Image OC Med Center, is located in Laguna Niguel, CA. Her practice website, http://www.DrSikorski.com, is dedicated to educational information inclusive of cosmetic surgery, medical dermatology and cosmetic applications of dermatological procedures. Natural Image OC is housed in a large, modern and comprehensive suite of medical offices including an AAAHC certified surgical center. Contact phone is (949) 448-0487
###