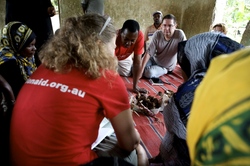 It's easy for Australians to ignore poverty and injustice in our day-to-day lives, because these things are geographically remote and hidden from view
Sydney, Australia (PRWEB) July 6, 2009
ActionAid Australia has launched a nationwide search for an Australian blogger to send overseas in an effort to shine a light on the causes of poverty.
The anti-poverty agency, with operations in over 40 countries across Africa, Asia and the Americas, is planning to send up to 10 bloggers to a selection of its program countries to set up outreach blog posts.
Setting up blog outposts involves training locals to use social media tools such as Twitter and blogs, as well as supplying technical equipment, such as cameras and laptops.
The plan is for each blog outpost to provide a window into the realities of poverty and injustice in that country, region or village.
One of Australia's most popular bloggers, Stilgherrian, has just returned from Tanzania after trialing the blog outreach program. His task now, is to create a "how-to" manual for future expeditions.
ActionAid Australia CEO Archie Law said ActionAid plans to send the next blogger by Christmas.
"It's easy for Australians to ignore poverty and injustice in our day-to-day lives, because these things are geographically remote and hidden from view," said Mr. Law.
"By giving poor people a voice through social media tools such as twitter and blogs, we are giving them a new medium through which to claim their rights, while giving outsiders an intimate view of the realities of poverty."
"It's clear that social media in on the rise in Australia, as it is around the world, with huge interest from the media and general public in sites such as Twitter, Facebook and YouTube. What we want to do is use these sites as strategic tools in our fight against poverty and injustice."
Mr. Law said the next outreach blogger would be provided with a training manual developed from the pilot project in Tanzania, as well as one-on-one support from Stilgherrian.
"What we're after in the next outreach blogger, is someone open-minded who loves adventure and isn't afraid to get their hands dirty," said Mr. Law.
"We're looking for someone who can relate to people from different cultures and has empathy with the challenges poor people face. We're not necessarily looking for a blogging or development expert."
"Project TOTO aims to drive real-time insights, for example, what life is like inside a refugee camp, how a community deals with security fears, the journey of displacement of people as a result of war, how Australian companies operating overseas are affecting local populations, recorded through the eyes of the average Australian," added Mr. Law.
"The sort of locations we're looking at for the next outreach blogger are places like Cox Bazaar in Bangladesh, which is one of the largest refugee camps in the world - imagine giving Australians, and the world, a window into the realities on the ground there," said Mr. Law.
"Other options might be training slum dwellers in Brazil to speak out about their rights or Tsunami survivors in India who are rebuilding their lives through an ActionAid micro-credit scheme. These are the stories we want to get out there."
Those wanting to nominate themselves or nominate a friend will need to register their interest here by 30th August 2009.
To help cover the costs of sending the outreach blogger, ActionAid is calling on the social media community for donations and support.
ActionAid is relying on donations to make Project TOTO a reality and is seeking $10,000 to cover the costs of establishing the next blog outpost - including sending the blog trainer and purchasing the required equipment.
What people can do to help?

For more information on the Project TOTO Challenge, visit http://blogs.actionaid.org.au/toto
About ActionAid:
ActionAid is an international anti-poverty agency working in over 40 countries, taking sides with poor people to end poverty and injustice together. ActionAid's vision is a world without poverty and injustice in which each person enjoys the right to a life with dignity.
ActionAid Australia was previously known as Austcare. The organisation was established in 1967 and changed its name to ActionAid Australia on 1 June 2009 after becoming an affiliate of the ActionAid International network.
ActionAid takes a rights-based approach to poverty eradication, focusing on six key human rights:
1) Women's and girls' rights
2) The right to food
3) The right to education
4) The right to just and democratic governance
5) The right to human security in conflict and emergencies
6) The right to life and dignity in the face of HIV and AIDS
###