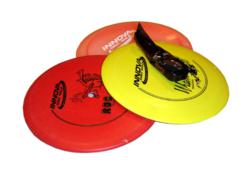 P.E.D. Products has once again showcased the versatility and durability of the ActionCam
Rochester, NY (PRWEB) August 09, 2012
P.E.D. Products, developer of the small action video camera, the ActionCam, in conjunction with the #1 disc golf website, Disc Golf Course Review , has created an unforgettable visual experience that only the ActionCam can provide.
Using a custom developed rotational mount, P.E.D. was able to attach the ActionCam to a flying disc in a way that has never been done before. This mount has allowed P.E.D. and Disc Golf Course Review to give viewers a first person perspective of a disc golf disc in flight. The ActionCam's light weight and streamlined profile guaranteed that it had little to no effect on the disc's flight. As a result, viewers are able to observe the unique lines a disc takes on its way to the target as if they were actually flying with the disc. Locations in the video include Ellison Park in Rochester, NY, Widener Park in Chili, NY and the Parma Disc Golf Course in Parma, NY.
With the addition of the rotational mount, P.E.D. Products has once again showcased the versatility and durability of the ActionCam. For more information about the ActionCam, visit http://www.ped-products.com/actioncam
About P.E.D. Products
P.E.D. Products (Performance Engineering & Design) has been in business for over 12 years, designing, selling and servicing products to the Sports, Racing, Aviation, Fire, Safety, Hobby & Business communities. The goal; is to provide the consumer with the best service, highest quality, state of the art products at affordable prices. http://www.ped-products.com
About Disc Golf Course Review
Disc Golf Course Review is an online media company that operates a community for disc golf enthusiasts. DGCourseReview.com offers its members an online home to exchange ideas and information, a complete interactive course directory as well as the capability to track and analyze every aspect of their game from organizing their disc collections to recording scores to tracking courses they have played.