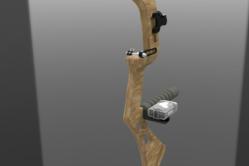 It's so small the user won't even know it's there.
Rochester, NY (PRWEB) February 27, 2013
P.E.D. Products, the manufacturer of the smallest HD action video camera, the ActionCam, will have a display booth at one of the largest, Western NY trade Expos for Outdoor/Sportsman, Hunting and Fishing suppliers; The Western NY Sport & Travel Expo. The fact that the ActionCam is such a great fit in the Sportsman Community, we feel the WNY Sport & Travel Expo will give us great exposure to the Hunters, Sportsman, Hobbyists and the Motorsports community.
The ActionCam is an ultra small action video camera that produces high quality true HD 720P video. Small enough and rugged enough, it can be mounted almost anywhere; it's a fraction the size of it's competition and only weighs 1.2 ozs!! It allows the user to capture all your Action Videos, here are just a few of the applications people are using the ActionCam for; Car Racing, Motorcycle Racing, BMX Bikes, Cycling, Skiing, Hang Gliding, Hunting, Paint Ball, Fishing RC Cars & Boats, Rock Climbing, etc. It's the only ArcheryCam of this size. Come see why the ActionCam by P.E.D. Products has been adopted by the Archery community. Whatever your passion.
It's the only Video Camera of its size that allows you to mount to a hat, gun, bow, ATV or vehicle without being a LARGE, bothersome appendage. It's so small the user won't even know it's there. Check out this video of the ActionCam mounted to a Disc Golf Disc. The ActionCam is also one of the only video cameras on the market that allows the user a variety of configurations; from Time Lapse photos, Motion detect, Easy On, Video settings along with a host of other options.
The WNY Sport & Travel Expo is one of the largest across the Northeast. and Canada. It's where the latest products can be seen and purchased, as well as guest speakers, product demonstrations, tip and techniques are shared.
Come check out the ActionCam in booth #340, and receive a special show discount. The show is at the Hamburg Fairgrounds in Hamburg NY; Mar 7, 8, 9 & 10th. For more information on the show, visit the WNY Sport & Travel Expo website: http://www.sportandtravelexpo.com/WNY/Default.aspx.