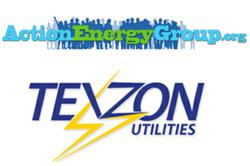 Action Energy Group is tailor made for non-profits - They can offer their supporters real value – lower utility rates – while also generating needed revenue
Dallas, TX (PRWEB) June 28, 2012
Texzon Utilities, LTD (Texzon) announced today the launch of Action Energy Group, a program developed for non-profit organizations. This program will enable patrons of the organization to receive highly competitive rates from established electricity companies. A portion of every kilowatt-hour used by enrollees in the program will be paid to the organization. Action Energy Group was created as a result of Texzon's experience in the industry and recognition that many non-profits are looking for creative ways to raise funds. Licensed with the Public Utility Commissions of Texas, Pennsylvania, and Ohio, Texzon/Action Energy Group has established marketing agreements with many of the major energy companies across the nation and has helped thousands of residents and businesses lower their rates.
"Action Energy Group is tailor made for non-profits," states CEO Steve Wilson. "They can offer their supporters real value – lower utility rates – while also generating needed revenue. The best part is that it doesn't cost supporters anything extra. In fact, with multiple companies competing for the lowest rate, both the supporter and the organization reap the benefits," said Wilson.
About Texzon:
TEXZON is one of the nation's leading energy aggregators. In 2002, Texzon started brokering electricity in the deregulated markets. In 2008, Texzon was recognized in Entrepreneur Magazine as one of the "Hot 100" Fastest Growing Businesses in America. Inc. Magazine also listed Texzon as a top 20 energy company in "The Inc. 500." Texzon currently operates in Texas, Ohio, Pennsylvania and New Jersey. Texzon is also a developer of energy storage technology, as well as green Waste-to-Energy and Onsite Generation projects in U.S. markets.
Contacts:
Steve Wilson, CEO
Phone: 972-938-0533
swilson(at)texzon(dot)net
http://www.actionenergygroup.org