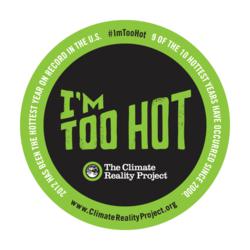 Boulder, CO (PRWEB) August 14, 2012
Nationwide, this is the hottest year on record to date – and leading brand engagement firm Action Marketing Group will assist The Climate Reality Project in sharing this and other facts about climate change with the public while also gathering stories about how the excessive heat is affecting people across the country.
This month, The Climate Reality Project takes to the road for two five-day stops: the first was in Austin, from Aug. 1 through Aug. 5; and the second is in Washington, D.C., from Aug. 14 through Aug. 18. For both stops, Action has crafted a campaign that aims to help people connect, share and interact through social and digital channels on topics related to climate change. Using the hashtag #ImTooHot, visitors to The Climate Reality Project's ice cream truck will be asked to write a tweet or Facebook post explaining how they have been affected by the heat. In each city, The Climate Reality Project will give away free "climate" ice pops, gifts and information about climate change.
Many of the social media comments that are shared will be visible on a chalkboard community Twitter wall near the truck. Later, the comments that have been gathered will be posted to The Climate Reality Project's Twitter page. Anyone outside either city also will be able to join the conversation by posting their own #ImTooHot stories to Twitter or Facebook, with a tag to their own city, state or country. As with the comments collected in Texas and the nation's capital, many of these posts will reappear on The Climate Reality Project's own social media channels.
More details about the campaign – as well as the current extreme weather we're seeing – can be found on The Climate Reality Project's blog.
About Action Marketing Group
Recently acquired by leading shopper marketing and brand engagement agency, Match Marketing Group, Action Marketing Group has been delivering innovative below-the-line marketing, sales and retail solutions to North America's leading brands for over a decade. Its client roster includes Fortune 100 companies across all major industry categories. More details are at http://www.actionmarketinggroup.com.
About The Climate Reality Project
The Climate Reality Project is bringing the facts about the climate crisis into the mainstream and engaging the public in conversation about how to solve it. We help citizens around the world discover the truth and take meaningful steps to bring about change. Founded and chaired by Al Gore, Nobel Laureate and former Vice President of the United States, The Climate Reality Project has more than 5 million members and supporters worldwide. It is guided by one simple truth: The climate crisis is real and we know how to solve it. For more information, visit http://climaterealityproject.org.