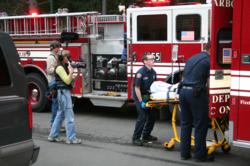 Action Training Systems is a multimedia development company and worldwide leader in providing innovative training systems for emergency responders.
Poulsbo, WA (PRWEB) April 27, 2011
National EMS Week will be honored by Action Training Systems and other EMS supporters during this year's National Emergency Medical Services Week, being celebrated May 15 to 21. This year's theme is "Everyday Heroes."
Emergency Medical Services (EMS) providers and emergency room personnel will hold events throughout the country to honor those who provide life-saving emergency care every day. Special tributes will be paid to the EMS providers who lost their lives in the line of duty in the past year, as well as their surviving family members.
Action Training Systems is joining others across America in recognizing our EMS providers by launching a 25-title EMR series. As our first responders put their lives on the line, a high degree of training is crucial not just to the victims they serve, but to their own safety as well. This series prepares our responders for real-life emergencies where seconds count.
Action Training Systems celebrates our everyday heroes today, but it was four decades ago that President Gerald Ford declared the third week in May as National EMS Week. This year local communities will gather to show their gratitude for the selfless service and personal sacrifice given by our firefighters, EMRs, EMTs, paramedics and other emergency responders.
Some will be grand gestures. Queens, NY, expects over 500 to show in honor of those who perished in the attacks on the World Trade Center on 9/11 nearly ten years ago. As CNN cameras caught desperate victims fleeing down stair wells, emergency medical systems providers were the few and brave charging up, fated to give the ultimate sacrifice.
Other celebrations will be more humble. Akron, Ohio, will hold a parade followed by free hot dogs and an auto extrication demonstration. Many fire stations will hold open houses and visit schools during the week. All of this will be to celebrate the week when we as a nation stand up and show our appreciation and simply say "thank you."
It's no accident that Americans are served by the best EMS system in the world. The National Emergency Medical Services Education Standards (NEMSES) define the minimum competencies required of all EMS personnel. Action Training Systems builds entire innovative training systems that help emergency responders train to the standards outlined by organizations such as NFPA and the National Highway Traffic Safety Administration.
Action Training Systems is a multimedia development company and worldwide leader in providing innovative training systems for emergency responders. The company provides quality video demonstrations on DVD and interactive computer based training (CBT) programs and simulators on the Iluminar Learning Management System (LMS) software platform. All programs are reviewed by renowned subject matter experts aiding in content creation through the production of multimedia training tools, which is why ATS is renowned for its exceptional real life content.
Action Training Systems produces training programs for emergency medical systems personnel in both the private and public sector based on nationally accepted training standards and only uses real emergency medical systems personnel to ensure the integrity and authenticity of the skills that are demonstrated and captured on video. Other training systems include firefighter training, HAZMAT, Fire Service Rescue, The Essentials of Fire Fighting and more. For more information, visit http://www.action-training.com.
Contact Information:
Maureen Lander
Action Training Systems, Inc.
(360)509-6151
maureenlander(at)comcast(dot)net
action-training.com
###