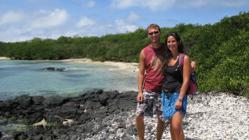 "It was really easy to take great photos in the Galapagos Islands, it's so beautiful!" said Dani Fay, the winner of Active Adventures' 2012 Annual Photo Draw.
Queenstown, New Zealand (PRWEB) January 18, 2013
Danielle "Dani" Fay of Snohomish, WA, was just one of hundreds of clients who posted travel photos on Active Adventures' website last year from tours in New Zealand, Ecuador, Patagonia, Peru and Nepal with the leading New Zealand-based adventure tour operator. Each January, one of those photos submitted in the year prior is randomly selected and the winner is awarded a 2-for-1 Active Adventures tour valued at up to US $5520.
Dani, a self-confessed "travel addict", and husband Jeremy were on a 10-day Galapagos tour (known as "The Tortuga") with Active Adventures last October. "It was really easy to take great photos in the Galapagos Islands, it's so beautiful!" said Fay when she got the call that she had won yesterday.
"We had a fantastic time on this trip! By staying on land instead of a boat, we feel like we really got to soak up the best of all the islands visited and support the local economy more. We were impressed by both the accommodations and the food included. We got to visit all the highlights of each island and see tons of wildlife, but we still had plenty of free time to do our own thing. Our guide Jessica did a wonderful job, she was a wealth of information and a blast to hang out with," said Fay, who is looking forward to travelling on another Active Adventures tour soon.
"Our travel photo galleries, featuring images taken by clients on our trips, are one of the most popular features of our website. It's a great way to get a feel for what we do and as you'll see, it's hard to take a bad shot in the amazing places we take you!" said Darren Hill, an Active Adventures South America destination expert.
About Active Adventures:
Active Adventures is a New Zealand-based adventure tour operator specializing in bucket list travel on small group adventures since 1996. In addition to offering Galapagos adventure tours, they also run South America tours in Peru, mainland Ecuador and Patagonia (as Active Adventures South America), iconic hiking and New Zealand adventure tours (as Active Adventures New Zealand), and Nepal trekking tours under the name Active Adventures Himalayas. Call Darren to discuss travel in South America or request a free tour brochure on 800.661.9073.