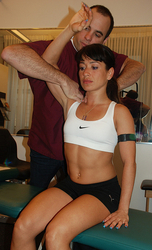 I think we'll be able to help a lot of people feel well again with ART.
New York, NY (PRWEB) May 26, 2010
At his downtown NYC office, noted local chiropractor, Dr. Steven Shoshany, has recently expanded his practice to include a potent soft tissue and muscle pain therapy called the Active Release Technique. Living Well Medical (located at 632 Broadway between Houston and Bleecker Streets) is a local fixture through which Dr. Shoshany has helped New Yorkers get relief from pain in the muscles, joints, back and neck for years by combining several conservative, non-surgical methods into custom programs; Active Release Technique (commonly referred to as ART) provides another dimension for patient treatment options that include physical therapy, chiropractic adjustment, spinal decompression therapy, the Graston Technique, cold laser therapy and so much more. Seeing an opportunity to better serve his patients, Dr. Shoshany obtained his ART certification earlier this week.
Active Release Technique is different because it both diagnoses and treats at the same time. Developed and patented by Dr. P. Michael Leahy, DC, CCSP, this method of soft tissue treatment has gained national recognition for it's effectiveness in the resolution of overuse injuries. By manually detecting abnormalities in the soft tissues of the body, an Active Release Technique practitioner can identify where scar tissue has built up from repetitive strain and create a customized treatment plan that targets these tissues. Through a series of specially designed movements that are coupled with precisely directed tension (by the practitioner), accumulated adhesions in soft tissue can be corrected and even chronic pain resolved. An ART program can also be integrated with other non-surgical treatment components to improve results and speed up recovery times.
Common conditions that have been noted to respond well to therapy with the Active Release Technique in NYC include but are not limited to:

Sciatica
Back & Neck Pain
Cervical Nerve Impingements
Muscle Strains
Shoulder Pain
Pinched Nerves
"The Active Release Technique will really help us treat patients with soft tissue injuries and chronic muscle or tendon pain. I think we'll be able to help a lot of people feel well again with ART," Dr. Shoshany noted about obtaining his certification to practice at his NYC wellness center. As of this week, Living Well Medical in Downtown Manhattan will begin integrating Active Release into its treatment programs. For more information on ART and other methods of non-surgical treatment available at Living Well Medical in NYC, call his office at 212-645-8151.
# # #