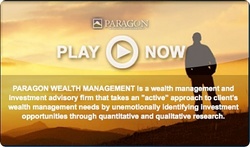 There has always been a debate of whether buy and hold is better
Provo, UT (Vocus) June 18, 2010
Paragon Wealth Management, a registered investment advisor firm, created a new video on the front page of their website to discuss why they believe active wealth management is more effective than passive.
"There has always been a debate of whether buy and hold is better," said Dave Young, President of Paragon Wealth Management. "My argument for the buy and holders is, 'how long should you hold?""
Young has done extensive research to determine the most effective wealth management strategies. He has tried and tested these strategies since 1985.
"There is nothing intrinsic about active management that says it is better," said Young. "It is only effective if you have disciplined investment strategies that you follow over time."
Paragon Wealth Management posts their performance numbers on their website monthly. Their growth portfolio, Top Flight, has generated a total return of 351.10 percent compared to 39.22 percent for the S&P 500 since its inception on January 1, 1998 through May 31, 2010. Visit http://www.paragonwealth.com to see full disclosures and additional performance numbers.
"Past performance is no guarantee of future results, but our performance numbers speak for themselves," said Young.
All of Paragon's investment decisions are based on their quantitative models. Paragon's wealth managers do not base their investment decisions based off their emotions.
"We actively monitor and manage our clients' accounts daily," said Nathan White, Paragon's Chief Investment Officer. "We have fiduciary responsibility, which aligns our interests with our clients'."
About Paragon Wealth Management
Paragon Wealth Management is a wealth management firm that was established in 1986. They actively manage all types of traditional and retirement accounts such as IRA and 401(k) rollovers, and pensions and trust. Paragon is a registered investment advisor and has fiduciary responsibility. Call 800-748-4451 for more information.
Paragon Wealth Management cannot guarantee the accuracy of information from other sources. Opinions are as of the dates indicated only. This report is not a solicitation for any security. Past performance is not a guarantee of future results. Investment performance reflects time and size-weighted geometric composite returns of actual accounts. Investment returns are net of all fees and costs. The S&P Index is a diversified, size weighted index of 500 stocks.
###