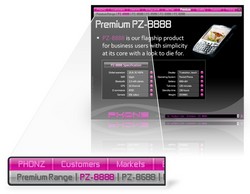 I've been presenting and have listened to presenters for more than 20 years and during this time I couldn't help but notice that there was no easy solution for presenting someone else's material while remaining professional, composed and in control.
London, UK (PRWEB) May 11, 2010
GMARK announced today that its first version of ActivePresentation™ Designer is now available for Microsoft® Office PowerPoint®. This new software enables PowerPoint authors to design interactive navigable presentations in a matter of minutes and includes a range of additional presenter and sales channel tools to make delivering consistent brand messages a breeze.
With an increasing number of presentations being created by one person but being delivered by another or many others, ActivePresentation Designer solves the issue of presenter unfamiliarity with their presentations. It has been designed to address a range of audiences such as a CEO presenting to investors, a sales director presenting to customers or a team of account managers in a partner channel, enabling them to be able to get to the most relevant information quickly.
ActivePresentation™ Designer provides PowerPoint authors with the ability to add an on-slide menu bar to their presentation that looks and feels like the navigation found on many Web sites, so it's instantly familiar. Presenters can intuitively jump from one slide to another in small or large leaps with a single mouse click thanks to the tree logic that is overlaid on the presentation.
Additional features include an export wizard for presenters to compile a custom slide subset to deliver to their audience after the presentation has finished, based on the slides recorded during the slide show. The custom presentation is further enhanced with password security to protect confidentiality.
PowerPoint was initially conceived in 1984 as "Presentation" and followed its predecessor's mechanism of serially presenting acetate sheets on an overhead projector. Business users now have little time for lengthy presentations often containing information already known or information not of interest. ActivePresentation Designer also lets presenters show and hide additional slide detail as 'popup' objects that can contain text, images or video so that slides can be kept clean without deleting detail that should be shown only when required.
Today, businesses make in excess of 30 million presentations a day (source: Microsoft) but a significant portion of the presenters are not presenting material they authored. Getting 'lost' in another person's slides is not only frustrating but extremely disturbing to audiences and a confident presenter can make all the difference in business.
###