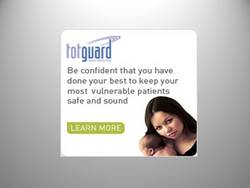 MTMC has been committed to equip our new facility with state-of-the-art technologies, and we set about to find an infant and pediatric security solution that would live up to this commitment
Vancouver, BC (PRWEB) October 24, 2009
Guard RFID Solutions Inc. announced today that the Middle Tennessee Medical Center (MMTC) has chosen its TotGuard™ Infant Protection solution for its new $267 million facility in Murfreesboro, TN. The facility is to be equipped with state-of-the-art technologies, and GuardRFID's TotGuard™ system will play a pivotal role in the protection of newborn and pediatric patients.
Guard RFID Solution's active RFID infant tracking TotGuard™ product is a true IP-based RFID infant tracking system, using existing Ethernet networks, so the system can be accessed across the whole facility, as well as remotely for monitoring and maintenance services. The system uses tags with a unique dual-tamper detection technology so as to reduce nuisance alarms, as well as the first tamper-detecting Umbilical tags.
"MTMC has been committed to equip our new facility with state-of-the-art technologies, and we set about to find an infant and pediatric security solution that would live up to this commitment", said Jennifer Garland, MTMC's project director, "We were very impressed with the capabilities of GuardRFID's new generation TotGuard™ Infant Security solution, with its IT-friendly platform and ease of use. We worked closely with several departments including maternal-infant services and security, and we are confident we've selected a safe, highly advanced system."
GuardRFID's Vice President of Sales, Beth Bandi stated that she is excited about deploying the TotGuard™ Active RFID tags at MTMC. "GuardRFID is continually adding features and capabilities to its TotGuard™ solution that have never been available in the past with other systems. MTMC's new facility being built promises to be a real showcase not only with uncompromised infant and patient security, but because it will also provide the highest quality of care. MTMC's choice of our TotGuard system is testament to the fact that GuardRFID has developed a true next generation RFID platform."
About Middle Tennessee Medical Center
Saint Thomas Health Services is a faith-based ministry with more than 6,500 associates serving Middle Tennessee. Saint Thomas Health Services' regional health system consists of four hospitals - Baptist and Saint Thomas in Nashville, Middle Tennessee Medical Center in Murfreesboro and Hickman Community Hospital in Centerville - and a comprehensive network of affiliated joint ventures in diagnostics, cardiac services and ambulatory surgery as well as medical practices, the Center for Spinal Surgery, clinics and rehabilitation facilities. STHS is a member of Ascension Health, a Catholic organization that is the largest not-for-profit health system in the United States. For more information, visit http://www.sths.com.
MTMC Contact: Angie Boyd-Chambers
615.396.4110
GuardRFID develops Active Radio Frequency Identification (RFID) technologies and products for Healthcare and Enterprise applications. GuardRFID's products can accurately track and locate assets and people, and are used for enhanced automation, workflow, monitoring and security solutions. GuardRFID's ability to support multiple applications on its platform positions the company to be able to offer combined people and asset solutions all on the same infrastructure. Founded in early 2007, GuardRFID introduced the first low-cost disposable Active RFID tags to the market, eliminating the need to recycle tags, and allowing for mass deployment for a reasonable investment. GuardRFID Solutions is federally incorporated in Canada, with its head office in the Province of British Columbia, and its Sales office in Atlanta, GA. Additional information regarding GuardRFID products and services can be found at http://www.guardrfid.com.
Contact: Beth Bandi, Vice President of Sales
404.281.0064
# # #