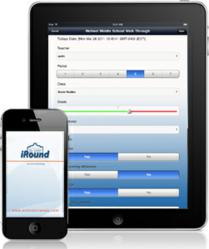 Plymouth Meeting, Pennsylvania (PRWEB) February 15, 2012
ActiveStrategy, Inc., a leading provider of strategy and performance management software and consulting, announced today that Sharon Regional Health System, consisting of a 241-bed hospital plus 21 satellite centers located in western Pennsylvania, has selected two ActiveStrategy technology solutions to support their performance improvement and management goals. The health system will be implementing ActiveStrategy iRound, which is an automated rounding and data collection solution that lets hospitals use iPhones and iPads instead of paper-based processes for all kinds of hospital rounds and observations, as well as ActiveStrategy Enterprise, which is web-based software that helps organizations manage all aspects of their strategic and operational performance more effectively and efficiently.
Hospitals today are required to conduct and record numerous safety, quality, and compliance observations, as well various surveys of patients, families, and employees. Most hospitals—like Sharon Regional Health System—conduct these types of surveys and observations using paper-based forms that are later entered into spreadsheets and databases. Since Sharon Regional Health System has been experiencing significant growth in medical services and the number of patients choosing the system for care, they recognized that using ActiveStrategy iRound to eliminate manual rounds could save them valuable staff time, improve accuracy, make information instantly available to take action, which will ultimately improve the care experience for their patients.
Sharon Regional intends to first deploy ActiveStrategy iRound on the nursing units and critical care units to improve the patient experience through consistent and documented rounding on patients. The improved efficiency of patient rounding not only enhances the overall inpatient hospital experience, but also results in higher patient satisfaction scores that are reflected in the Hospital Consumer Assessment of Healthcare Providers and Systems (HCAHPS) public reporting system.
In addition, Sharon Regional Health System will be implementing ActiveStrategy Enterprise, which will provide the system with a better way to track and manage strategic objectives, key performance indicators (KPIs), related initiatives or improvement projects, and action items, including those identified using ActiveStrategy iRound. Leaders across the system will have individualized dashboards that provide an easy-to-access source for all critical performance information, as well as the tools leaders need to act upon the information to improve results.
The team at Sharon Regional Health System first learned about ActiveStrategy when Linde Wilson, who was appointed Sharon Regional's CEO in August, described how the web-based software had helped her in her previous role as Chief Operating Officer and interim Chief Executive Officer at Aria Health in Philadelphia.
"I am very familiar with ActiveStrategy and in particular iRound," said Ms. Wilson. "The benefits its various components bring to healthcare organizations has resulted in more standardized rounding, better documentation, and higher patient satisfaction. Here at Sharon Regional, we're particularly interested in iRound, which will greatly assist us in managing the growth the Health System is experiencing, and aid us in our new strategic planning initiatives," Ms. Wilson added.
Jack Steele, Chairman and CEO of ActiveStrategy, remarked: "At ActiveStrategy, we're always delighted, though not surprised, when an executive who has utilized ActiveStrategy software in the past chooses to deploy our solution again in a new organization. We look forward to working with Ms. Wilson again and helping the entire team at Sharon Regional Health System improve patient satisfaction, quality outcomes, and strategic alignment."
About ActiveStrategy, Inc.
ActiveStrategy technology and consulting solutions help hospitals and organizations in all other industries improve performance and overall outcomes. Our solutions include web-based strategic management and improvement software called ActiveStrategy Enterprise, an automated rounding solution called ActiveStrategy iRound that leverages iPads and iPhones to replace paper-based surveys and observations, and management consulting services that enable performance excellence.
# # #