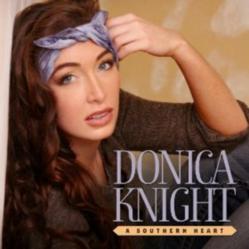 ...we picked out all the best things about Auburn. The song (Great To Be) wrote itself!
Atlanta, GA (PRWEB) May 31, 2013
Donica has been doing a lot of entertaining this year! She opened for Kenny Rogers with the hit song "Elevator" from her debut album "A Southern Heart." She performed 'Annie' from the same album at the Monster X Tour in Montgomery, Alabama. During a recent City of Hope live online performance on Stageit, she raised money for cancer research. She was at the Toadlick Festival last month with several other country/rock singers and bands like Jake Owen, Luke Bryan, 3 Doors Down and Lynyrd Skynyrd.
We can have the privilege of listening to her country voice in an upcoming show on June 15th at the 2013 World Livestock Auctioneer Championship. She will sing the National Anthem and more at the Renaissance Montgomery Hotel in Montgomery, AL.
Donica previously attended the Actors, Models and Talent for Christ 2010 SHINE talent convention where she won Overall Actor and was a finalist for Overall Adult Singer. Ever since then, she's been on fire.
Donica has been singing and playing ball since she was in grade school and has proved to be pretty good at both. She made the All-Star baseball team and sang solos in school plays and talent shows in her church band and choir. When asked what she wanted to be when she grew up, being a singer was always at the top of her list.
Although Donica headed to Auburn University and studied for 2 years to earn a degree in Special Education, she made a life-altering choice to chase the dream in her heart.
After singing live-band karaoke for a few weeks, Donica was invited to join the group Luckytown, a cover band on the college circuit. She liked the response she got from a live audience and knew she wanted more. Although she enjoyed working with Luckytown, she wanted to write and perform original music. So in the summer of 2011, she started traveling to Nashville between gigs to write, and sing and chase her dream.
In that short time, she found a manager, acted, sang two of her own songs in the movie, "LA Dirt," sang two duets with Ronnie Milsap (including one she co-wrote) and recorded her own album.
Some of her musical influences are Janis Joplin, Bonnie Raitt and Shania Twain. Donica's music is aimed at the young, single female audience, delivered with soul and heart. With songs like "Pretty Lips," "Next Lover," "Do Ya Daddy Let You Date?" and "Girls Go Out," it sounds like her dream is coming true.
For more information about an AMTC audition or to register for an event near you, please visit http://www.amtcworld.com/auditions.