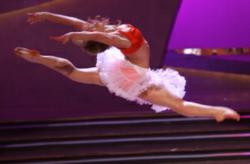 I don't know if I was more excited or nervous that I was actually going to be on the show [So You Think You Can Dance]
Atlanta, GA (PRWEB) June 06, 2013
AMTC will be searching for local Wichita talent at the Century II Performing Arts & Convention Center June 15th. Professionals and amateurs, ages 4 and up are invited to attend. Auditions are being held at 10am and 2pm and are free of charge.
AMTC has been the starting point for hundreds of successful artists and grads like Caitlin Kinney - SYTYCD, Caleb Callahan - the new face for European Tombolini and Ravazzolo, Chris Young on tour this summer with Brad Paisley, Mathai and Taylor Beckham - The Voice, Charles Michael Davis - Switched At Birth and Grey's Anatomy, Stephen "tWitch" Boss - Step It Up Revolution and newest judge for SYTYCD, Ben Davies - Courageous and Julian Silva - Les Miserables Broadway 2013 National Tour.
AMTC teaches talented people what they need to know and connects them with an unprecedented array of talent agents, managers and casting directors as the "go-to" source who can create larger opportunities.
This anticipated AMTC audition event will be hosted by Adam She, an international Christian leader whose goal is to find, prepare and lift God's talent to influential positions in the entertainment industry. Adam's passion is to ignite a new generation of Christians to become men and women of action. He is excited to see AMTC success stories move into prominent positions on the mountains of arts, entertainment and media. Adam says, "Bad is bold, so good must be bolder. It's time for God's stars to stand up on the stages of film, fashion, music and theater—to present positive role models that people can follow." He considers the mission field of media to be the most important mission on earth today.
For the past 30 years, non-profit Christian ministry AMTC has been scouting the country, searching for actors, models, singers, dancers and comedians who are called to become positive role models in the entertainment industry.
AMTC's Wichita Auditions are being held at the Century II Performing Arts & Convention Center, Meeting Room 101AB, 225 W Douglas, Wichita, KS 67202, Phone: 316.264.9121. Please use the entrance beyond the Concert Hall Ticket Office.
Please visit http://www.amtcworld.com/auditions for more information or to register for this upcoming audition.