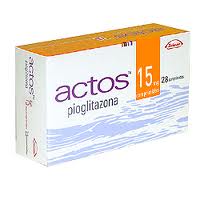 The new actos warning was issued on April 19, 2012 by Health Canada...
Los Angeles, CA (PRWEB) May 02, 2012
The Actos Resource Center, a patient advocacy group, is alerting patients taking the diabetes drug Actos that a new safety advisory has been issued over the drug's association with bladder cancer, and victims are already filing lawsuits in a special Actos federal court.
The new warning was issued on April 19, 2012 by Health Canada, which is Canada's health regulatory agency similar to the FDA in the United States. Authorities warned patients that Actos may cause an increased risk of bladder cancer and advised that they had required the manufacturer, Takeda Pharmaceuticals, to add a label warning addressing the risk.
The FDA issued a similar warning associating Actos with bladder cancer on June 15, 2011. According to The Canadian Press on April 19, 2012, the latest warning was issued in response to a study by Health Canada which was commenced last June, finding users of Actos are over 40% more likely to develop bladder cancer.
Last year, CBS News reported on June 10, 2011 that Germany and France had banned Actos prescriptions after a study by the French Medicines Agency indicated long-term use could increase bladder cancer occurrences by as much as 40%.
According to a Bloomberg report, Takeda faces thousands of Actos lawsuits from patients in the U.S. In an article published March 13, 2012, the news agency predicted as many as 10,000 patients may eventually file an Actos bladder cancer lawsuit.
In December, a federal Judicial Panel on Multidistrict Litigation issued an order consolidating all lawsuits to a federal court in Louisiana. The case is known as In Re: Actos Products Liability Litigation, MDL 2299, U.S. District Court, Western District of Louisiana (Lafayette).
Since these types of MDL defective drug liability cases often involve different rules and procedures, the Actos Resource Center recommends that anyone diagnosed with bladder cancer who has legal questions talk with an expert drug injury actos attorney.
The Actos Bladder Cancer Center only works with qualified Actos lawyers who are actively involved in this litigation and have handled thousands of cases.
For more information on the research, warnings, side effects and legal options relating to the drug Actos, or to speak with a lawyer, visit ActosCancer.com.