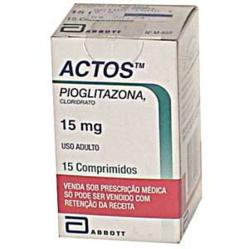 Statutes of Limitation in their state could limit the amount of time they have to file a claim.
New York City, NY (PRWEB) June 26, 2012
The Actos Resource Center, a patient advocacy group, is alerting patients who suffered injury after taking the diabetes drug Actos that certain Statutes of Limitation in their state could limit the amount of time they have to file a claim.
Anyone who has been diagnosed with bladder cancer or heart disease after taking the drug should consult with their doctor and contact a lawyer to learn about their legal options.
A little over a year ago on June 15, 2011, the FDA warned that Actos may be associated with a higher risk of bladder cancer. According to The Canadian Press on April 19, 2012, Health Canada joined the U.S., France, Germany and the European Medicines Agency in also issuing an Actos bladder cancer warning.
Hundreds of people have now contacted the Actos Resource Center to learn about their legal options after suffering bladder cancer, heart attacks or liver damage.
According to a Bloomberg report, Takeda faces thousands of Actos lawsuits from patients in the U.S. In an article published March 13, 2012, the news agency predicted as many as 10,000 patients may eventually file an Actos bladder cancer lawsuit.
However, victims who were prescribed Actos in a state with a one-year statute of limitations could face added legal challenges. According to lawyers with the Actos Resource Center, attorneys for Takeda Pharmaceuticals will likely argue that the deadline for victims in these states started on June 15, 2011 with the FDA warning and should expire a year later.
So far, no court has indicated that such cases would be barred, and a qualified lawyer can advise how long victims have to take action. However, since each case has a different expiration date, anyone affected is urged to seek help as soon as possible.
In December, a federal Judicial Panel on Multidistrict Litigation issued an order consolidating all lawsuits to a federal court in Louisiana. The case is known as In Re: Actos Products Liability Litigation, MDL 2299, U.S. District Court, Western District of Louisiana (Lafayette)
The Actos Bladder Cancer Center only works with Actos lawyers who are actively involved in this litigation and have handled thousands of cases.
For more information on the research, actos warnings, side effects and legal options relating to the drug Actos, or to speak with a lawyer, visit http://www.ActosCancer.com.