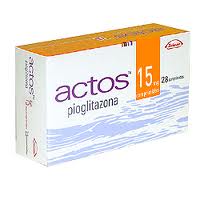 Up to a 40% increased risk of bladder cancer
Orlando, FL (PRWEB) November 17, 2011
Although the FDA only months ago issued a warning about the serious risks for bladder cancer associated with the diabetes drug Actos, the response from patients affected by the drug has been shocking.
Thousands of people diagnosed with bladder cancer after taking Actos have sought help in determining their legal rights against the maker of the drug, Takeda Pharmaceuticals.
On August 31, 2011, lawyers representing Nevada plaintiffs Glen and Nina Weant filed a motion with the U.S. Judicial Panel on Multidistrict Litigation (JPML) in Case NYE/1:11-cv-04502 asking that all federal Actos lawsuits be consolidated in an MDL court in the U.S. District Court for the Southern District of Illinois before Judge Murphy.
According to the motion, more than 12 lawsuits in 8 different federal district courts throughout the United States have been filed by patients who developed bladder cancer after taking Actos. The US Judicial Panel on Multidistrict Litigation has scheduled a hearing for December 1, 2011 to decide whether Actos lawsuits will be consolidated into an MDL.
A June 9, 2011 article in Bloomberg identified Actos as the leading diabetes treatment in the world, likely taken by millions of people. Sales of the drug were bolstered after studies in 2007 linked competitor Avandia to heart attacks and cardiovascular death.
On June 15, 2011, the U.S. FDA issued a warning that patients taking Actos for periods longer than one year could face an increased risk of developing actos bladder cancer.
The warning was based on an interim review of data from an ongoing 10-year study ordered by the FDA as well as a study by the French Medicines Agency. The French study tracked 155,000 patients taking the drug over four years, compared with 1.3 million diabetics not on the drug.
After a finding by the French study that those taking Actos for more than one year could face up to a 40% increase in the occurrence of bladder cancer, authorities in France and Germany halted use of the drug. The European Medicines Agency and FDA have issued strong warnings, but have not yet ordered a stop in sales.
According to the FDA, bladder cancer normally affects only 20 people out of 100,000. The National Cancer Institute claims there have been 69,250 new cases so far in 2011 with 14,990 deaths. However, the disease is considered highly treatable as the symptoms allow for early detection.
Actos was approved by the FDA in 1999 for the treatment of type II diabetes. According to the June 9, 2011 Bloomberg article, Japanese drug maker Takeda Pharmaceuticals earned $4.8 billion last year from sales of Actos alone.
Treatment of bladder cancer can require targeted chemotherapy as well as surgery to remove tumors or the entire bladder. Patients can face pain, long term disruption of bodily functions like urination and sexual ability, or even death.
Due to the extensive treatment, loss of function and long term medical monitoring required, damages for Actos bladder cancer could reach into the millions of dollars. Since there is a time limit on how long you have to take action, it is important for anyone affected to learn their legal options as soon as possible.
As with any highly-specialized case, an actos lawsuit is a very complex legal matter which could require extensive investigation and years of preparation. Before selecting a lawyer for help, make sure they have experience fighting large drug companies.
ActosCancer.com contains information on Actos, the research and side effects linked to the drug, as well as symptoms and treatment options for bladder cancer and how to find a lawyer who can help you recover.
###