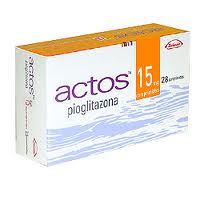 According to French Medicines Agency long-term use of Actos could increase bladder cancer occurrences by as much as 40 percent.
Denver, CO (PRWEB) April 19, 2012
After the FDA warned in June, 2011 that the popular diabetes drug Actos might be associated with an increased risk of bladder cancer, hundreds of patients taking the drug have contacted the Actos Bladder Cancer Center to learn about research and how to protect their legal rights.
Safety warnings came after the French Medicines Agency released a study in 2011 showing long-term use of Actos could increase bladder cancer occurrences by as much as 40 percent. Although CBS News reported on June 10, 2011 that Germany and France have halted sales of Actos, the drug remains on the market in the U.S.
Amid growing concern, a federal Judicial Panel on Multidistrict Litigation issued an order on December 29, 2011 consolidating all lawsuits under District Judge Rebecca Doherty in the Western District of Louisiana under the heading, In Re: Actos Products Liability Litigation, MDL 2299, U.S. District Court, Western District of Louisiana (Lafayette).
Now, with Bloomberg reporting on March 13, 2012 that as many as 10,000 patients may eventually file a claim, it is important for anyone affected to make sure a qualified lawyer is handling their case so it receives due attention.
On March 12, 2012, Judge Doherty appointed 19 lawyers to a Plaintiff Steering Committee to manage the Actos litigation in the United States. Chosen for their expertise, these lawyers will lead evidence gathering efforts and argue key points pertaining to trial procedure, selection and scheduling.
Effective drug injury litigation often depends on a large pharmaceutical company recognizing the qualification and resources of the handling lawyer or law firm. As a result, the Actos Cancer Center recommends anyone wanting to learn their legal rights for Actos bladder cancer speak with a lawyer appointed to the Plaintiff Steering Committee.
The Actos Bladder Cancer Center only works with top Actos lawyers recognized for their skill in mass tort drug litigation and named to the Actos Plaintiff Steering Committee.
For more information on the research, warnings, side effects and legal news pertaining to the drug Actos, or for a recommendation of the top Actos lawyers, visit ActosCancer.com.