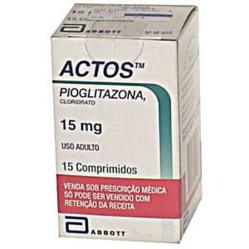 A new lawsuit claims that executives of maker Takeda Pharmaceuticals also tried to influence and hide negative data.
Orlando, FL (PRWEB) May 23, 2012
Less than a year after the FDA issued health warnings about the popular diabetes drug Actos and regulators in France and Germany banned it from the market, a new lawsuit claims that executives of maker Takeda Pharmaceuticals also tried to influence and hide negative data.
A former medical reviewer for Takeda Pharmaceutical has filed a False Claims Act lawsuit claiming the pharmaceutical giant failed to report health risks to regulators and directed reviewers to "change their professional opinion" over health concerns of their diabetes drug Actos. Helen Ge, the plaintiff named in the civil suit, asserts the drug manufacturer wanted to blunt findings which demonstrated the drug exacerbated heart failure.
According to her lawsuit, Ge was terminated after raising concerns over the practice with executives. The case, which was unsealed by the U.S. Justice Department on February 22, is U.S. ex rel. Helen Ge v. Takeda Pharmaceutical Co., 10-cv-11043, U.S. District Court, District of Massachusetts (Boston).
The announcement comes as claims mount against Takeda Pharmaceuticals that its best selling diabetes drug may have contributed to thousands of patients developing bladder cancer. According to an article published in Bloomberg on March 13, 2012, the company could face as many as 10,000 lawsuits in the U.S.
Controversy with Actos began last June when the FDA warned that the drug may be associated with a higher risk of bladder cancer. CBS News reported on June 10, 2011 that Germany and France had banned Actos after a study indicated long-term use could increase bladder cancer occurrences by as much as 40%.
Last month, the Canadian Press also reported that Health Canada had issued a warning after a study there showed a greater than 40% increased risk of bladder cancer from Actos.
A federal Judicial Panel has since consolidated all Actos lawsuits to a special multi-district federal court in Louisiana. The case is known as In Re: Actos Products Liability Litigation, MDL 2299, U.S. District Court, Western District of Louisiana (Lafayette).
United States District Judge Rebecca Doherty, who is overseeing the litigation, recently signed a direct-filing order for any new claims. This will allow anyone filing an Actos lawsuit to do so directly to the MDL without first having to file a case in their local court and waiting for it to be transferred to the federal court.
The Actos Resource Center believes the new charge of covering evidence of heart health risks will lead more people to seek justice for their Actos side effects and could expedite the litigation process. However, since a multi-district litigation court differs from other legal venues, it is important that anyone wishing to pursue a claim do so with a lawyer qualified for this type of litigation.
The Actos Resource Center urges anyone suffering from bladder cancer or a heart attack after taking the drug who has legal questions to talk with an expert drug injury attorney. The Actos Center only works with qualified Actos lawyers who are actively involved in this litigation and have handled thousands of cases.
For more information on the research, actos warnings, side effects and legal options relating to the drug Actos, or to speak with a lawyer, visit http://www.ActosCancer.com.