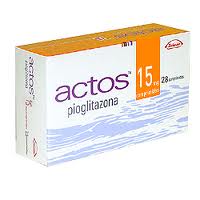 Over 10,000 Actos lawsuits are expected to be filed
Orlando, FL (PRWEB) February 21, 2012
A federal judge tasked with overseeing the litigation over whether a popular diabetes drug caused bladder cancer in hundreds of patients is moving quickly to expedite the legal process for both sides.
While those who have already filed an Actos lawsuit are one step closer to having their day in court, lawyers are still helping those who are just coming forward with side effects.
On Monday, February 13, U.S. District Judge Rebecca Doherty issued an order scheduling a pretrial status conference in the Actos litigation for March 22, 2012. The hearing will give representatives of the drug manufacturer and those of patients alleging bladder cancer from the drug a chance to discuss trial preparation and whether any progress has been made in reaching a settlement.
After the hearing, Judge Doherty will also appoint lead counsel in the consolidated cases from her bench in Lafayette, Louisiana.
Doherty was originally assigned to dozens of the lawsuits in Multi-District Litigation following an order by the U.S. Judicial Panel on Multidistrict Litigation in December. She now presides over approximately 150 cases and lawyers expect thousands more may be filed before litigation is complete. The pending case is In Re: Actos Products Liability Litigation, MDL 2299, U.S. District Court, Western District of Louisiana (Lafayette).
Lawyers with the Actos Resource Center have responded to hundreds of inquiries from those who have taken Actos and expect many more will come forward due to the popularity of the drug.
On June 15, 2011, the FDA issued a warning that taking Actos for longer than one year could heighten the risk of bladder cancer. Approved by the FDA in 1999, Actos had become one of the most popular diabetes drugs in the world after rival Avandia was linked to heart problems.
The warning came after a study of 155,000 patients over four years by the French Medicines Agency showed taking Actos could increase the occurrence of bladder cancer by up to 40%.
Authorities in France and Germany quickly banned sales of the drug. However, it remains on the market in the United States.
Now, according to a Bloomberg article published December 1, 2011, drug makers Takeda Pharmaceuticals and Eli Lilly could face as many as 10,000 lawsuits from those stricken with bladder cancer after taking Actos.
On Tuesday, Takeda released a statement saying "Takeda is confident in the therapeutic benefits of Actos and its importance as a treatment for type 2 diabetes. As a science and evidence-based company, Takeda firmly stands behind the substantial data available confirming the positive risk/benefit profile of Actos, which includes twelve years of clinical and patient experience with the product."
For more information on the side effects, FDA warnings and litigation associated with Actos, visit ActosCancer.com.
###