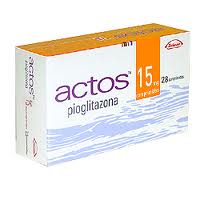 French Medicines Agency have discovered as much as a 40% increased risk of bladder cancer with long-term Actos use.
Los Angeles, CA (PRWEB) May 11, 2012
The Actos Resource Center, a bladder cancer patient advocacy group, is alerting patients of the risks of bladder cancer from Actos after new research in the journal Neuropsychopharmacology indicated the drug may be beneficial in treating depression.
Actos, a popular treatment for type II diabetes, has been linked to bladder cancer by researchers in France, Germany, Canada and the United States in recent years. Researchers with Health Canada and the French Medicines Agency have discovered as much as a 40% increased risk of bladder cancer with long-term Actos use.
However, scientists recently found Actos may improve the effects of antidepressants in treating Major Depressive Disorder. Last week, the journal Neuropsychopharmacology published findings from researchers at Tehran University indicating patients given Actos along with antidepressant drugs reported more symptom relief.
Professor Shahin Akhondzadeh commented that the results were important since a large percentage of patients treated for depression fail to respond to the available antidepressant medications.
According to a Bloomberg report on June 9, 2011, Actos was already the most popular drug in the world for the treatment of type II diabetes. However, with the FDA estimating that 20% of Americans take antidepressant drugs, experts with the Actos Resource Center fear that millions more could be prescribed the drug to help with depression, putting more at risk of bladder cancer.
According to a Bloomberg report on March 13, 2012, Takeda Pharmaceuticals and Eli Lilly face as many as 10,000 Actos lawsuits from patients in the U.S. over bladder cancer allegedly caused by the drug.
A federal Judicial Panel on Multidistrict Litigation has consolidated all of the lawsuits into a federal court in Louisiana. The case is known as In Re: Actos Products Liability Litigation, MDL 2299, U.S. District Court, Western District of Louisiana (Lafayette).
The Actos Resource Center cautions anyone considering taking Actos to speak with their doctor about the risks. Anyone diagnosed with bladder cancer after taking the drug should speak with a lawyer about their legal rights.
The Actos Bladder Cancer Center only works with qualified Actos lawyers who are actively involved in this litigation and have handled thousands of cases.
For more information on the research, actos warnings, side effects and legal options relating to the drug Actos, or to speak with a lawyer, visit ActosCancer.com.