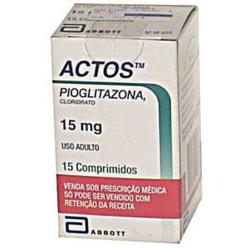 Anyone who has suffered a side effect after taking Actos is encouraged to speak with a lawyer about their legal options.
Orlando, FL (PRWEB) May 18, 2012
The Actos Bladder Cancer Center is alerting those patients who were diagnosed with bladder cancer or heart disease after taking the diabetes drug Actos that a recent court order could expedite the legal process by which Actos lawsuits are handled.
Anyone who has suffered a side effect after taking Actos is encouraged to speak with a lawyer about their legal options.
The announcement comes as claims mount against Takeda Pharmaceuticals that its best selling diabetes drug may have contributed to thousands of patients developing bladder cancer. According to an article published in Bloomberg on March 13, 2012, the company could face as many as 10,000 lawsuits in the U.S.
Controversy with Actos began last June when the FDA warned that the drug may be associated with a higher risk of bladder cancer. CBS News reported on June 10, 2011 that Germany and France had banned Actos after a study indicated long-term use could increase bladder cancer occurrences by as much as 40%.
Last month, the Canadian Press also reported that Health Canada had issued a warning after a study there showed a greater than 40% increased risk of bladder cancer from Actos.
A federal Judicial Panel has since consolidated all Actos lawsuits to a special multi-district federal court in Louisiana. The case is known as In Re: Actos Products Liability Litigation, MDL 2299, U.S. District Court, Western District of Louisiana (Lafayette).
United States District Judge Rebecca Doherty, who is overseeing the litigation, recently signed a direct-filing order for any new claims. This will allow anyone filing an Actos lawsuit to do so directly to the MDL without first having to file a case in their local court and waiting for it to be transferred to the federal court.
The Actos Resource Center believes this will help expedite the litigation process for new victims and allow all of the lawsuits to reach trial or a resolution even quicker. However, since a multi-district litigation court differs from other legal venues, it is important that anyone wishing to pursue a claim do so with a lawyer qualified for this type of litigation.
The Actos Resource Center urges anyone diagnosed with bladder cancer after taking the drug who has legal questions to talk with an expert drug injury attorney. They work only with qualified Actos lawyers who are actively involved in this litigation and have handled thousands of cases.
For more information on the research, actos warnings, side effects and legal options relating to the drug Actos, or to speak with a lawyer, visit ActosLawsuitUpdate.com.