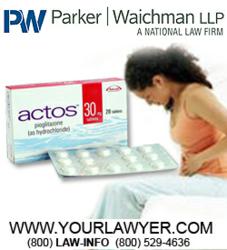 (PRWEB) July 11, 2012
Parker Waichman LLP, a national law firm dedicated to protecting the rights of victims injured by defective drugs, has filed a lawsuit against Takeda Pharmaceuticals America, Inc., Takeda Pharmaceuticals USA, Inc., Takeda Pharmaceuticals North America, Inc., Takeda Pharmaceutical Company Limited and Eli Lilly and Co., alleging that their diabetes drug Actos caused bladder cancer in one Louisiana man. The suit was filed on June 14th in the U.S. District Court for the Western District of Louisiana (Case No. 6:12-cv-1700) where it is one of many cases pending in the multidistrict litigation as part of In Re: Actos (Pioglitazone) Products Liability Litigation (MDL No. 6:11-md-2299). Proceedings are centralized before Judge Rebecca F. Doherty; Jerrold S. Parker, co-founder of Parker Waichman LLP, has been appointed to the Plaintiffs' Steering Committee.
According to the complaint, the Plaintiff took Actos as prescribed from about 2009 to 2012. He developed bladder cancer during this time. The lawsuit alleges severe mental and physical pain and suffering, past and future permanent injuries and emotional distress, economic loss due to medical expenses and living related expenses as a result of a new lifestyle. The Plaintiff's Complaint alleges negligence, three counts of strict products liability (defective design, manufacturing defect, failure to warn), breach of express and implied warranty, fraudulent misrepresentation and concealment, negligent misrepresentation, fraud and deceit, punitive damages, violation of consumer protection statutes, state products liability acts or statutes and loss of consortium.
Actos was launched in 1999 as a type 2 diabetes medication belonging to the thiazolidinedione (TZD) class. According to the suit, it is one of Takeda's best-selling drugs, accounting for 27 percent of the company's revenue.
The complaint claims that the Defendants were aware that Actos may increase the risk of bladder cancer and chose to hide this knowledge at the cost of patient safety. The lawsuit also states that drug-induced tumors were discovered in rats during a two-year carcinogenicity study before the drug was approved. Allegedly, the rats were given doses of Actos equivalent to the amount received in a clinical setting.
The complaint also cites the PROactive Study (PROspective pioglitAzone Clinical Trial In macroVascular Events) published in 2005. According to the complaint, researchers had discovered a higher rate of bladder cancer among those taking Actos, but did not include this information in the original paper.
In September 2010, the U.S. Food and Drug Administration (FDA) warned that Actos was associated with an increased risk of bladder cancer after two years of exposure. Last June, the agency amended this announcement by stating that the link was apparent after only one year of use, correlating to an increased risk of 40 percent in comparison to non-users; the label was updated to reflect this risk. Both announcements were based on a review of an ongoing 10 year epidemiological study by Kaiser Permanente.
The potential link between Actos and bladder cancer has been recognized on an international scale. In fact, the drug was suspended in France and Germany last June. According to the complaint, a retrospective cohort study using the French National Health Insurance Plan found a statistically significant increased risk of bladder cancer in male patients who were exposed to Actos for over a year. In April, Health Canada updated the label on Actos to include the risk of bladder cancer. [hc-sc.gc.ca/dhp-mps/medeff/advisories-avis/public/_2012/actos_3_pc-cp-eng.php]
A Canadian study published in the British Medical Journal found that taking Actos for two years doubled the risk of bladder cancer. [bmj.com/content/344/bmj.e3500?utm_source=feedburner&utm_medium=feed&utm_campaign=Feed%3A+bmj%2Frheumatology+%28Latest+Rheumatology+articles+from+the+BMJ%29]
Most recently, a study published in the Canadian Medical Association Journal (CMAJ) found a 22 percent increased risk of bladder cancer when taking Actos. The findings were based on data from over 2.6 million patients in 10 different studies.
[cmaj.ca/content/early/2012/07/03/cmaj.112102]
Parker Waichman LLP continues to offer free legal consultations to victims of Actos. If you or a loved one were diagnosed with bladder cancer after taking Actos, please contact their office by visiting the firm's Actos injury page at yourlawyer.com. Free case evaluations are also available by calling 1 800 LAW INFO (1-800-529-4636).
For more information regarding Actos side effect lawsuits and Parker Waichman LLP, please visit yourlawyer.com or call 1-800-LAW-INFO (1-800-529-4636).
Contact:
Parker Waichman LLP
Gary Falkowitz, Managing Attorney
(800) LAW-INFO
(800) 529-4636
yourlawyer.com