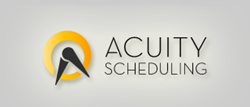 I really liked the fact that Acuity Scheduling converts online scheduling into an important activity that can significantly affect bottom lines.
Washington, DC and Barcelona, Spain (PRWEB) September 30, 2013
GetApp, an independent marketplace that helps businesses discover, compare, review and purchase business applications, today announced it has awarded top rating to Acuity Scheduling, a leading online appointment scheduling software in the cloud, with a ranking of 9 out of 10 in its business apps marketplace.
"I really liked the fact that Acuity Scheduling converts online scheduling into an important activity that can significantly affect bottom lines," said Rakesh Sharma, GetApp reviewer.
Acuity Scheduling achieved the following ratings:
Overall: 9/10
Ease of Use: 4/5
Features: 5/5
Value: 5/5
Acuity Scheduling offers appointment booking directly through websites. Clients worldwide or local can schedule their appointment time online, complete custom forms, and pay with a credit card, online 24/7.
It is a multi-use scheduling solution that is complemented with other benefits such as automated reminders as well as appointment schedulers and customizable appointment times. The solution simplifies the scheduling process through robust time zone support that enables global businesses to solicit clients from all over the world.
Small to medium-sized businesses also use Acuity Scheduling to make personal as well as professional appointments. The solution is suitable for businesses that deal with a high volume of online appointments.
According to GetApp, the main benefit of using Acuity Scheduling is that it can use online scheduling as a way to increase bottom lines and to drive efficiencies across complex scheduling processes.
Acuity Scheduling founder Gavin Zuchinski said, "We are honored to receive an excellent score from GetApp, which illustrates our commitment to make online appointment scheduling more efficient for SMBs and large corporations. Our hope is to make online booking easily accessible to any business, we're thrilled GetApp has recognized this."
To read the full review on GetApp, visit http://www.getapp.com/blog/acuity-scheduling-review/.
To learn more about Acuity Scheduling, please visit http://www.getapp.com/acuity-scheduling-application.
About Acuity Scheduling
Acuity Scheduling has helped thousands businesses offer appointment scheduling online since 2006. Booking appointments is the core of many businesses, from life coaches to tutors to massage therapists. Acuity's goal is to simplify the complicated and diverse scheduling needs of many businesses into a flexible, yet easy to use, online appointment management software. Acuity Scheduling is self financed and based out of Washington, D.C.
About GetApp
GetApp is the largest independent online marketplace that helps small to mid-sized businesses and startups discover, evaluate and manage the perfect business apps for their needs. Its mission is to support millions of users in their "best app" research with comprehensive directories, interactive search tools, side-by-side comparison tables, user reviews and app evaluation resources.
In addition, GetApp serves as a global online marketing channel for thousands of business application developers. GetApp operates primarily in North America and the U.K. It is privately owned and backed by Nauta Capital.