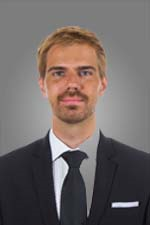 His enthusiasm and sales experience are a welcome addition...
York, PA (PRWEB) July 14, 2016
Acuity Business Solutions, a division of Stambaugh Ness Business Solutions (SNBS) has announced the addition of Mike Williams to its Deltek Vision sales team. Williams, a Senior Solutions Advisor will work exclusively with Deltek Vision solutions designed specifically for professional services firms.
Applying his experience in sales and marketing, Mike will work closely with clients to identify their unique needs and match them with solutions that will improve efficiency, optimize performance and maximize profitability.
SNBS Managing Partner Steven Hake says, "We are excited to have Mike join our award-winning Acuity team. His enthusiasm and sales experience are a welcome addition and will benefit our clients as Mike works with them to improve overall business performance."
About Acuity Business Solutions
Acuity Business Solutions is a Deltek reseller, implementer, and consulting partner. The Acuity team has three decades of industry knowledge, best practices, and hands-on experience with Deltek products. Acuity provides sales consulting, support, training, and customization services for Deltek products. Acuity also offers value added services such as users group meetings, free product and business management webinars, special events, and lunch and learns to ensure its clients have access to the information they need to be successful and get the most out of their Deltek technology investment.
About SNBS
SNBS, an affiliate of Stambaugh Ness CPAs, serves clients in more than 40 states. The company is a Deltek Vision Premier Partner and Microsoft Partner offering technology solutions that encompass, Network Support and Outsourced IT, and many cloud-based solutions.