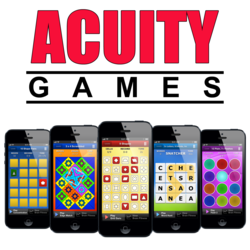 Grid Guru is a highly configurable pattern-match memory game that provides lifetime brain fitness measurement.
Pompton Plains, NJ (PRWEB) June 25, 2013
Acuity Games is pleased to announce the release of their latest brain game: Grid Guru, a challenging pattern-match memory game. "Grid Guru furthers Acuity Games' mission to reinvent brain games," said Dan Hansen, founder of Acuity Games. "Most brain game companies treat players like rats in a lab experiment, providing the same tests to every player. Acuity Games' focus is on the individual, creating games that adapt to each player's unique skills and preferences."
Grid Guru players can create games with the following options:

Time Limit: From 5 seconds to unlimited
Grid Size: 15 grid sizes (9 to 100 tiles) that can grow dynamically
Tile Type: Plain, Number Letter or Shape
First Level: Number of tiles to match on the first level (1 to 100 tiles).
Last Level: Number of tiles to match on the last level (1 to 100 tiles).
Winning Pattern Size: Less than or equal to the Last Level option
Max Pattern Retries: How many errors to allow before ending the game
"Like all Acuity Games, Grid Guru provides innovative Lifetime Brain Fitness Measurement, showing players how their performance changes over time," explained Hansen. "Other brain games focus on ranking players against each other, which provides minimal benefit. What's truly important is whether an individual player's performance improves or declines. Measuring long-term performance changes gives players peace of mind that they are maintaining their brain fitness, and provides an early warning before declines in brain fitness become a problem."
To celebrate the release, Grid Guru will appear in the iTunes App Store for the reduced price of $2.99, a discount of 40%. The Grid Guru launch trailer, which includes a peek into the gameplay, can be viewed on YouTube:
Trailer: http://www.youtube.com/watch?v=NKKBd85rlT0
Grid Guru joins the six Acuity Games that are currently available in the iTunes App Store: Concentration, Edge Match, Flash 2, Matchematics, Sudoku and Word Hunt.
Game Links
Free: https://itunes.apple.com/us/app/acuity-games-grid-guru-lite/id659303853?ls=1&mt=8
Paid: https://itunes.apple.com/us/app/acuity-games-grid-guru/id639540414?ls=1&mt=8
About Acuity Games
When it comes to brain games, one size does not fit all. Acuity Games' brain games adapt to each player's individual skills and preferences. Innovative Lifetime Brain Fitness Measurement compares daily, monthly and yearly performance against average performance, making it incredibly easy to see whether brain fitness is improving or declining. Up to 100 years of daily measurement provides peace of mind that brain fitness is being maintained. Learn more: http://acuity-games.com