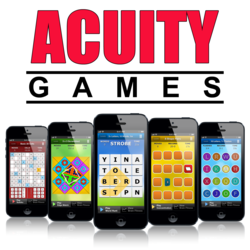 Acuity Games pitches innovative brain games to Shark Tank casting directors
Pompton Plains, NJ (PRWEB) June 05, 2013
Brain games developer Acuity Games joined hundreds of entrepreneurs at Shark Tank's Philadelphia casting call on May 11th, where producers guaranteed that at least 500 pitches would be heard. With the line opening at midnight, Acuity Games' founder Dan Hansen arrived at 2:30am, placing Acuity Games at number 78 in line.
After a long wait, entrepreneurs were shuttled 20 at a time to NextFab Studio, and given 1 minute to pitch their concept to one of the casting directors. Watch the Acuity Games pitch video on YouTube:
http://www.youtube.com/watch?v=7ECwmT1tx-I
"It was a very well run event from start to finish. Even the early morning rain was anticipated, with tenting provided for the outdoor line," said Dan. "The camaraderie among the entrepreneurs gave the day almost a party atmosphere. No word yet on whether the Sharks are willing to take a bite on Acuity Games' brain games," he concluded.
About Acuity Games
The Acuity Games' line of brain games empowers people to improve brain fitness through lifetime brain fitness measurement; measurement that verifies the brain fitness results of healthy lifestyle choices. Learn more: http://acuity-games.com.
About Brain Fitness
Dementia is poised to become the healthcare crisis of the 21st century, with over two billion people at risk for the disease by 2050. Because the brain fitness decline that leads to dementia begins as early as age 27, it needs to be addressed years before becoming at risk for the disease. Researchers report that up to half of Alzheimer's cases, the most common form of dementia, may be preventable through healthier lifestyle choices.
About Lifetime Brain Fitness Measurement
Independent research indicates that the mental stimulation found in brain games provides only a minimal benefit. Acuity Games reinvents brain games by putting the focus on brain fitness measurement, combining speed, skill and success metrics into an intuitive Brain Fitness Index. This powerful measurement is recorded automatically, and displayed in daily, monthly and yearly graphs, for up to 100 years, making it incredibly easy to see if brain fitness is improving or declining.