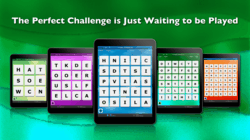 With endless level configurations, the perfect challenge is just waiting to be played.
Pompton Plains (PRWEB) April 16, 2013
Acuity Games has released the launch trailer for Acuity Games: Word Hunt. You can watch the video at: http://www.youtube.com/user/acuitygames.
Word Hunt is Acuity Games' version of the popular brain game that lets players trace adjacent letters to form words of three letters or more. Like all apps in the Acuity Games line of brain games, Word Hunt features lifetime brain fitness measurement.
"Lifetime brain fitness measurement separates Acuity Games from all other brain games, but it starts with great games," said Dan Hansen, founder of Acuity Games. "Word Hunt provides an addictive challenge that people will want to play for years to come."
Acuity Games provides brain games that are fun and challenging for players of all skill levels, and Word Hunt delivers. Configuration options include 6 grid sizes, minimum word lengths of 3, 4, or 5 letters, time limits, and number of winning words.
Acuity Games' mission is to help people improve their brain fitness as they age. When it comes to brain fitness, what matters is how it changes over time. Acuity Games apps give users an early warning if their brain fitness declines significantly, allowing them to modify the lifestyle choices that drive brain fitness before it's too late. Word Hunt will join the five games that are currently available in the iTunes App Store: Concentration, Edge Match, Flash 2, Matchematics and Sudoku.
Acuity Games: Word Hunt is scheduled for release on 30th April, for Apple's iPad.
About Brain Fitness
Dementia is poised to become the healthcare crisis of the 21st century, with over two billion people at risk for the disease by 2050. Because the brain fitness decline that leads to dementia begins as early as age 27, it needs to be addressed years before becoming at risk for the disease. Researchers report that up to half of Alzheimer's cases, the most common form of dementia may be preventable through healthier lifestyle choices.
About Acuity Games
The Acuity Games line of brain games empowers people to improve brain fitness through brain fitness measurement. Acuity Games are a scale for your brain. Learn more: http://acuity-games.com