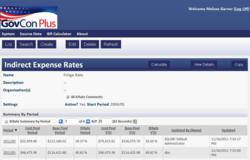 The simplicity and clean design of GovCon Plus does exactly what it is intended to do – saving us time by limiting hours of manual input for one time period. GovCon Plus does it instantly over multiple time periods and with minimal instruction needed."
Reston, VA (PRWEB) February 09, 2012
Acumen Advisors, a Deltek Premier Partner, is pleased to announce GovCon Plus, a software product to help Government Contractors manage Indirect Expense Rates and Cost Pools in Deltek Vision.
In the complex world of government contracting, a company's ability to accurately account for their indirect expenses in accordance with government regulations can mean the difference between winning or keeping a contract. GovCon Plus is an easy solution that reduces the risk of failing a government audit by improving accuracy, and saves time and money by eliminating complicated spreadsheets.
"The simplicity and clean design of GovCon Plus does exactly what it is intended to do – saving us time by limiting hours of manual input for one time period. GovCon Plus does it instantly over multiple time periods and with minimal instruction needed." -- Michael Sabatier, Comptroller, Blaine Warren Advertising.
GovCon Plus interfaces with Deltek Vision in either a hosted environment or on-premise installation. It pulls data from the Deltek Vision General Ledger and allows the company to set up complex cost pools and indirect rate calculations. GovCon Plus handles an unlimited number of pools, complicated calculations, intermediary allocations and different rates for different organizations. It is designed to handle the complexity of large organizations but priced for small to mid-market government contractors.
"Now accountants using Deltek Vision can be confident that their staff are correctly calculating their indirect rates and providing accurate reports to DCAA auditors. Previously our clients had to use complex spreadsheets that put our clients at risk for audit failure." -- June R. Jewell, CPA, President, Acumen Advisors.
About Acumen Advisors
Acumen Advisors specializes in software and business management consulting services for project based services firms, including: Architects & Engineers, Government Contractors, Energy & Environmental consultants, and management consulting firms across the country Acumen Advisors offers a full range of services to their clients including Application Hosting, Business Consulting, System Implementation, Data Migration, Software Training, Custom Application and IT Service Support. Partnering with over 1,700 clients nationwide, Acumen Advisors' award-winning team builds long-term relationships with its clients to help them succeed.
About Deltek
Deltek is the leading global provider of enterprise software and information solutions for professional services firms, government contractors, and government agencies. For decades, we have delivered actionable insight that empowers our customers to unlock their business potential. Over 14,000 organizations and 1.8 million users in 80+ countries around the world rely on Deltek to research and identify opportunities, win new business, optimize resources, streamline operations, and deliver profitable projects. Deltek – Know more. Do More.
###