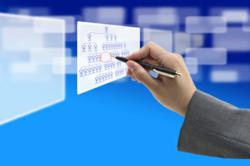 Startup companies or existing companies that cannot afford to hire a marketing company could benefit from the new guide now published.
Hartford, Connecticut (PRWEB) December 31, 2012
Alternative forms of advertising is one way that companies can use to find a source of consumers ready to make a purchase. The concept of ad swaps is now introduced in a new guide for businesses online. The MarketersBlackBook.com company has published this new guide for use by entrepreneurs and business owners that are searching for ways to increase online income. This guide can be found at this link http://marketersblackbook.com/email/how-to-do-ad-swaps.
Companies that advertise correctly can often experience sales growth. This business 101 strategy can be performed incorrectly and some companies fall victim to mistakes in advertising campaigns. Startup companies or existing companies that cannot afford to hire a marketing company could benefit from the new guide now published. The concept of swapping advertisements is one that is easy to understand and is one example of a strategy that few companies are using.
Email list management is one area that is essential to businesses selling products and services. Maintaining a list of subscribers that are frequent purchasers can be difficult to do in a competitive industry. To go with the new guide online, list management techniques are discussed that are designed to help companies build and maintain a consumer mailing list. The MarketersBlackBook.com website provides this information and more strategies for no cost online to companies growing a website.
A brand new live event series has helped introduce advanced online business strategies to more companies and entrepreneurs online. The acquisition by the MBB company of the InternetMarketingforBeginners.com website in 2012 is now helping to provide more training opportunities online and offline. The new live event series has lead to the creation of four successful events this year and more are planned in select cities in the U.S. This new series is in addition to the programs that are offered online.
Apart from the website upgrades, a new meetup group is one of the additions that the Marketer's Black Book company has made online. This secondary online resource is strictly designed for businesses or entrepreneurs that want to learn and share ideas with other group members. Members of this new group receive updated information and service announcements before this information is shared publicly. This new meetup group can be accessed at http://www.meetup.com/Internet-and-Direct-Response-Marketing-Group.
About Marketer's Black Book
The 2010 launch of the Marketer's Black Book company has lead to 24 months of growth for this marketing company. New improvements and upgrades to the business model has helped bring informative training programs, reviews and live events to more companies conducting business online. The 2012 purchase of several key websites has helped this company to expand its business operations and put measures in place for 2013. The Marketer's Black Book company is owned by successful business professionals that perform consulting, training, public speaking and other educational activities at top conferences in the U.S.