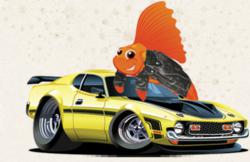 The parties at Ad:Tech as monstrous. This year with the big names performing at the parties, they are definitely kicking it up a notch even more.
San Francisco, CA (PRWEB) March 30, 2012
RoadFish.com men's lifestyle and finance magazine today released a listing of Ad:Tech parties happening next week in San Francisco from Monday, April 2nd through Wednesday, April 4th. The lineup includes which company is holding each party, details about the time and place, and a description of what to expect at each shindig.
RoadFish.com's Ad:Tech party list includes such festivities as the Mathmen Party, the Nami Media "Rouge" Rope Event, the Expo Hall party, the Blumberg Investment Party, the Affiliate Awards, the Marketers Ball, and shindigs hosted by Ads4Dough and Clickbooth.
Some of the parties are quieter networking events in the afternoon, while others are full-on dance clubs with such notable performers as the Ying Yang Twins and Sisqo at the Clickbooth party, and Too Short at the Marketers Ball. These parties will take place at the Moscone Center in San Francisco and at bars, clubs, and restaurants around the area.
There are more than a couple of events listed on the Ad:Tech party schedule that stand out. The Clickbooths bash, taking place at Location Mighty on Utah street, will feature the Ying Yang Twins, Sisqo, a DJ, open bar, VIP tables, and according to the party lineup "AWESOME" giveaways.
Murray Newlands' Affiliate Awards will take place on Tuesday as well and is sure to be a wonderful affair. RoadFish.com's editor was chosen to be one of the judges of this prestigious event. RoadFish.com's editor stated, "Murray Newlands who is putting [the Affiliate Awards party on] is one of the most creative and brilliant marketers and business people I know. This party should rock."
Another guaranteed good time is the San Diego-based company, Ads4Dough's, party. Jason Akatiff, the owner, will be hosting this bash that RoadFish.com's editor states should attract a very friendly and very smart crowd. Ads4Dough also recently hosted their successful San Diego event, Master Mind.
Purpose Inc., the parent company of RoadFish.com, is considering hosting a party on Wednesday night as well, and is looking for the right sponsor.
RoadFish.com's Editor is quoted as saying, "The parties at Ad:Tech as monstrous. This year with the big names performing at the parties, they are definitely kicking it up a notch even more. I am going to try to make as many of them as I can. I am even considering throwing one on Wednesday myself, since there aren't any yet."
Ad:Tech is an annual digital marketing event held in San Francisco, boasting a crowd of nearly 10,000 leading marketers, companies, publishers, influential speakers, agencies, and service providers. The Ad:Tech San Francisco conference features more than 35 breakout sessions, sponsored workshops, and close to 250 exhibitors. Topics include brand, social, mobile, search, and display to name a few. The latest digital marketing products will be on display in the exhibit hall, and keynote speakers will share the latest and greatest innovations in the digital marketing arena.
Ad:Tech tickets range from $2,095 for an all access pass, $1,645 for a conference pass, and $50 for an exhibit only hall pass. The Ad:Tech website is currently offering a promo to receive $200 off of a conference pass.
About RoadFish.com
RoadFish.com is an online men's lifestyle and finance magazine targeted toward men in their 30's and 40's that have already attained a moderate level of success in life, and are striving toward more. It goes over current events of interest to this group, such things as exciting adventures, making money, consumer interests, hot chicks, and dating tips as well as ways to make more and save more money. It is a publication owned by Purpose Inc.
###