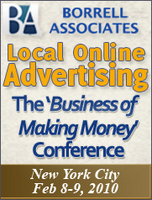 Are goal was to select only the best.
Williamsburg, Virginia (PRWEB) December 17, 2009
Borrell Associates has added more than three dozen conference speakers representing the fastest-growing and top-performing local online advertising companies in the U.S. The executives will speak at Borrell's "2010 Local Online Advertising: The Business of Making Money Conference" to be held Feb. 8-9 at the Grand Hyatt in New York City. The conference is being kicked off by author and media pundit Jeff Jarvis presenting "Turning Hyperlocal Into Hyperprofit." (See Jarvis Interview.)
"We've got the chief executives of the Top 4 fastest-growing local online advertising companies as keynoters," said Peter Conti Jr., executive vice president with Borrell Associates, "and we're pleased to announce that we'll also be hearing from many of the top revenue performers in local video, search, e-mail and hyperlocal news sites."
The speaker additions include:

Matt Crowley, CMO of AT&T Interactive/Yellowpages.com, the largest local online advertising company with interactive ad revenues approaching $900 million this year. Mr. Crowley will describe AT&T's aggressive approach toward local mobile advertising.
Gary B. Pruitt, Chairman, President and CEO of The McClatchy Co., which was one of the only newspaper companies to see its online revenues grow in Q3 and which is generating nearly half of its online revenue from new clients – non-newspaper advertisers.
Troy McGuire, Vice President of News and General Manager of Fisher Broadcasting Interactive, which has launched 43 hyperlocal Web sites in Seattle that are building revenues at a rapid clip.
Greg Sterling, a senior analyst with Opus Research and one of the foremost authorities on local search advertising.
Jay Livingston, Senior Vice President of Global Marketing for Bank of America, a leading national online advertiser experimenting with local media Web sites.
Michele Strong, Director of Product Development and Research for Belo Interactive, whose newspaper and TV sites have amassed millions of e-mail addresses and continue to launch successful campaigns through its MySpecials Direct e-mail advertising program.
Pat LaPlatney, Vice President for TV and Digital Media at Raycom Media, which holds the distinction of owning six of the Top 10 TV Web sites in the nation in terms of share of local online advertising.
Borrell will have 50 speakers at its two-day conference. Many were selected from Borrell's online-revenue database of more than 4,400 local media companies. "We sorted the list to find out who was performing the best in terms of total revenue, total local market share, or in categories such as e-mail, video, and paid search reselling," said Conti. "Our goal was to select only the best – the top performers who are building a business rather than just doing cool and interesting things."
The full conference agenda can be found at borrellassociates.com/conference. Discounts for early-bird registration ends Dec. 31 . For more information or if you have questions, visit the Web site or call 757-221-6641.
About Borrell Associates:
The local ad strategy and consulting firm, Borrell Associates, is the leading provider of local advertising research, data and strategic analysis along with consulting and sales-training services. The company provides detailed market advertising reports for hundreds of local interactive and traditional media companies, including local online ad spending, and customized reports for any U.S., Canadian or U.K. market and publishes annual online advertising reports and monthly analyses. For more information, visit our Web site http://www.borrellassociates.com.
###