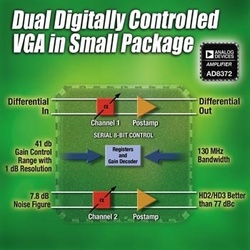 NORWOOD, Mass. (PRWEB) February 12, 2008
For wide-dynamic-range applications, the AD8372 offers a broad 41-dB gain range, with 1-dB steps and 0.2-dB resolution. The gain is programmed through a bidirectional 4-pin, 8-bit serial port, which consists of clock, latch, data input and data output lines for each channel. The 41-dB control range enables designers to keep input signals above the noise floor, while using the full-scale range of a wider variety of ADCs (analog-to-digital converters). The 41-dB gain range makes the AD8372 an essential component for multiple cable applications, including CMTS.
The AD8372, which accepts differential inputs and provides differential outputs, requires no baluns. It provides better than 77-dBc second and third harmonic distortion (HD) and 55-dB common-mode rejection (CMR). Compared to competitive products, the AD8372 delivers 35 percent more gain control range and improved second harmonic distortion in roughly 20 percent of the board space.
Availability and Pricing
The AD8372 amplifier is now shipping in production quantities and is available in a compact, thermally enhanced 5-mm x 5-mm 32-lead LFCSP (lead-frame chip scale package). The device operates over a temperature range of -40 degrees Celsius to +85 degrees Celsius. The AD8372 is priced at $6.50 per unit in 1,000-piece quantities. For more information, visit http://www.analog.com/pr/AD8372.
About Analog Devices
Innovation, performance, and excellence are the cultural pillars on which Analog Devices has built one of the longest standing, highest growth companies within the technology sector. Acknowledged industry-wide as the world leader in data conversion and signal conditioning technology, Analog Devices serves over 60,000 customers, representing virtually all types of electronic equipment. Celebrating over 40 years as a leading global manufacturer of high-performance integrated circuits used in analog and digital signal processing applications, Analog Devices is headquartered in Norwood, Massachusetts, with design and manufacturing facilities throughout the world. Analog Devices' common stock is listed on the New York Stock Exchange under the ticker "ADI" and is included in the S&P 500 Index. (http://www.analog.com)