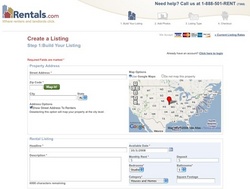 The reach and effectiveness of online versus traditional newspaper listings is significant – more exposure at lower cost. And because time is valuable, we've improved landlords' ad investments by streamlining the advertising process. This means less time spent creating an ad and more time in front of prospective tenants
ATLANTA (PRWEB) October 6, 2008
"The reach and effectiveness of online versus traditional newspaper listings is significant – more exposure at lower cost. And because time is valuable, we've improved landlords' ad investments by streamlining the advertising process. This means less time spent creating an ad and more time in front of prospective tenants," said John Ujda, vice president of business development at Rentals.com. "The enhancement also coincides with a housing market reality in which fewer people are able to secure home loans. In our view, servicing the rental marketplace with the most comprehensive listings network became all the more critical."
Launching in tandem with the improved ad creation tool is a free customer service offering that will walk property managers and landlords through the process of posting an ad. Ujda added, "No question advertising on Rentals.com is easier than ever. However, we remain committed to a customer service element that will drive loyalty and positive interactions. At the end of the day, we recognize the tremendous upside that comes with greater exposure and online prominence and will frequently fine tune our offering to make the experience for property managers and landlords as effortless and as intuitive as possible."
Rentals.com will continue to invest in improvements to the site and is expected to unveil a new customer experience later in the fall that will include refined search results and new mapping functionality.
About Rentals.com
Rentals.com is a comprehensive real estate rental site with one of the largest collections of single-unit and vacation rental information on the Internet. The site encompasses nearly 45,000 complete listings, including its own as well as select inventory from ApartmentGuide.com. Its network of sites also delivers listings not only to Rentals.com, but RentalHouses.com and a variety of third party sites.
About PRIMEDIA
PRIMEDIA Inc., through its Consumer Source Inc. operation, is a leading provider of advertising supported consumer guides for the apartment and new home industries. Consumer Source publishes and distributes more than 38 million guides – such as Apartment Guide and New Home Guide – to approximately 60,000 U.S. locations each year through its proprietary distribution network, DistribuTech. The Company also distributes category-specific content on its leading Web sites, including ApartmentGuide.com, NewHomeGuide.com and Rentals.com, a comprehensive single-unit real estate rental site. For more information, visit http://www.primedia.com.
Apartment Guide, ApartmentGuide.com, New Home Guide, NewHomeGuide.com and Rentals.com are trademarks and/or registered trademarks of PRIMEDIA Inc. Other company and product names may be trademarks of their respective owners. © PRIMEDIA Inc. 2008. All rights reserved.