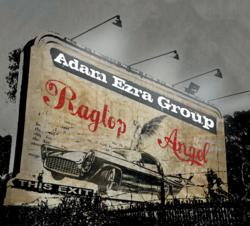 They are one of the few bands out right now whose music is deep and real. It was an honor to tour with them. -Michael Glabicki, Rusted Root
Boston, MA (PRWEB) April 11, 2012
Adam Ezra Group has graduated from being at the top of the Boston music scene to breaking nationally with their latest release, "Ragtop Angel," which has been highlighted in the Itunes "New and Noteworthy" section. Adam Ezra's passion for smart, well-written lyrics combined with the band's tight musicianship and powerful live performances are catching the ears of fans across the country. Jack Casey, the General Manager of WERS, Boston's #1 radio station for new music, commented that "After 2 hours of almost nonstop playing, Adam Ezra gives everything he has to the audience. Not since Springsteen and Bono have I seen a lead singer with his talent and charisma."
"Ragtop Angel" was produced by multi-platinum and Grammy nominated producer Aaron Johnson (The Fray). The album took over a year to finish and was recorded in Boston and Los Angeles. Adam talks of his producer's studio experience: "It was a thrill to work with Aaron and his team. This is the album we have been working towards for years." Ezra's songs often revolve around the common thread of finding the courage to follow one's own unique path through life. This thread is pulled from Adam's life of traveling the world and helping others find their path and driving force through music and activism. This theme is brought to the forefront in the songs, "Miss Hallelujah" and "Takin' Off Today," the latter describing a young couple bravely breaking ties with the small town where they grew up.
Adam Ezra Group has been touring non-stop and packing venues across the country, including the Mercury Lounge in New York City, Shubas in Chicago, The Roxy in Los Angeles, The Belly Up in Aspen, and their now legendary, sold out show at the Paradise Rock Club in Boston (where the band had one of their fans, Tom Hamilton of Aerosmith, join them on stage). The band has been a festival favorite around the country, including appearances at Oyster Ridge (WY), Rothbury (MI), Wildflower (TX), Nateva (ME), Earthfest (MA), and Download Festival (MA). With the release of Ragtop Angel, the Adam Ezra Group will continue their national tour with new music and momentum that is catapulting them towards being one of the country's most talked about bands.
You can learn more about Adam Ezra Band and see their latest show dates on their website at http://www.adamezra.com.
For any further information/interviews/exclusives please contact Melissa Zeigler(at)Powderfingerpromo(dot)com.