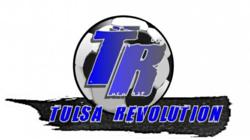 Life is a Game, Soccer is Serious & we are proud to be bringing Professional Soccer to Downtown Tulsa!
Tulsa, OK (PRWEB) January 17, 2013
Adam Mellor had a dream as a boy growing up on the mission field and that dream was to play soccer.
Fast forward a decade and a half later and a College scholarship that landed him in Kansas he we was ready to play. An injury, however, would say otherwise but Mellor never let go of his dream. His love and appreciation for the support makes it the second time Adam has brought Professional Soccer back to the city of Tulsa.
The Tulsa Roughnecks had a great run in Tulsa the late 70's to early 80's several of those early players became somewhat famous i.e.: Charlie Mitchell, owner of Charlie Mitchell's restaurants. Follow the Tulsa Revolution and their news here and on Twitter @TulsaProSoccer.
A Press Conference open to the public and all media is scheduled for Thursday, January 24 @ 12pm at the Tulsa Convention Center to announce Tulsa's newest Professional sports franchise. Thursday, January 24, 2013.
12:00 PM Tulsa Convention Center Arena Floor. At this time, media and local enthusiasts will receive all the details about this exciting new venture.
The Revolution played one season in the American Indoor Soccer League, but when the league ceased operations following the 2007-08 season, Mellor's team was forced to go dark. "We have wanted to bring the team back for some time, but we have a bigger vision and bigger goals now," said Mellor.  "We believe the PASL is the right league to accomplish those goals, and we look forward to bringing professional arena soccer back to Tulsa this year."
The Revolution have already agreed to terms with the 8,900 seat Tulsa Convention Center.    
"We are excited to welcome Adam, Shannon and the Revolution into the PASL as the first expansion team for the 2013/14 season," said PASL Commissioner Kevin Milliken. "Tulsa sports fans are in for a treat." 
The Tulsa Revolution was officially welcomed into the PASL for membership on July 10, 2012.