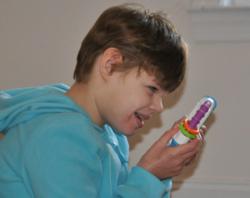 Austin, TX (PRWEB) December 18, 2012
A new video produced by the Cerebral Palsy Family Network shows how to modify electronic "touch to talk" toys for children or adults with disabilities.
"There's no reason a child or adult has to forgo some of the cool electronic toys out there just because they can't turn it on," said Lisa Viele, CPFN parent advisor, whose daughter, Lizzy, has cerebral palsy.
"It's empowering for a child to be able to trigger a toy to talk or move when she wants it to," she said. "When Lizzy can make stuff happen, she just lights up!"
"It's also a good way to recycle a toy that an older sibling has outgrown for use by any child – or even an adult – who has difficulty making small hand movements or is cognitively impaired," she added.
The video shows and describes how to change a toy with a "press me" mechanism into one with a much larger "push button" that requires very little downward pressure. The larger button is attached by a cable to the toy, which also makes it easier to operate.
Mike Abb, CPFN video editor, walks viewers through the process, which requires common household tools and purchase of a battery-powered "push light" available at many discount stores.
"It's easy once you see how it's done," said Abb. "We wanted to give a gift to our community that would benefit children, and we decided this would be it," he said.
The CPFN website recently posted a blog on how to modify other types of toys, and lists helpful resources available on other websites.
Cerebral Palsy Family Network
The Cerebral Palsy Family Network is a 501-C3 non-profit organization whose mission is to provide medical and legal resources to families and children with cerebral palsy. Among the resources it offers parents are the Cerebral Palsy Online Resource Directory, a free searchable database of resources available to CP families in each state and Washington, D.C., and the Care Guide: Medical and Emergency Records, which helps parents organize, update and share information about their child using their computer.