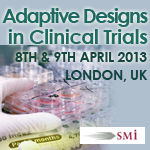 London (PRWEB UK) 28 March 2013
Clinical trials run by pharmaceutical and biotech companies have undergone major changes, implementing adaptive designs to tailor a trial. Reduction in costs and timings of early phase clinical trials can mean lower recruitment of patients and improve the overall clinical accuracy. Successful implementation of adaptive designs into a trial however requires unparalleled coordination between clinicians, trial managers, statisticians and those involved in external and internal regulation.
SMi's Adaptive Designs in Clinical Trials conference returns to London in April for the 5th year running. Pharma companies of all sizes will disclose how they have successfully implemented trials incorporating adaptive designs. Through their in-depth case studies and presentations delegates will learn how to implement an adaptive design clinical trial for their own drug development, from initial processes in managing trials to choosing the right time to implement change.
KEY TOPICS INCLUDE:

The motivation, promise, and success of Bayesian adaptive trial design
An adaptive design to explore prevention therapies for Alzheimer's Disease
Controlling the weighted sum of Type I and Type II errors, and implications for the design and analysis of adaptive designs
From preclinical studies to adaptive designs – a path to the future
Bayesian Variable Selection (BVS) approach for dose-response modelling
Adaptive sample size and modification in clinical trials: start small then ask for more?
Adaptive trials in pre-clinical discovery
Paediatric adaptation: early (stage) we practice, later perhaps we practice less
Designing multi-arm multi-stage clinical trials
Exploratory dose finding in malaria
Delegates now registered to attend include: Jazz Pharmaceuticals Inc, Celgene, Novartis, Propharma Partners, University College London, Voisin Consulting, Aptiv Solutions, UCB Pharma, Sanofi Aventis, Roche, Takeda, Boehringer Ingelheim, Oxford University, Tessella Support Services & Office of Health Economics
Recognised as Europe's only dedicated adaptive designs conference, this year's event is expected to be the best year yet!
Dale Butler, MD of event organiser SMi reported: 'response to this year's event has been extremely positive thanks to the strength of industry bodies and technology specialists we have on board. We look forward to once again providing a Europe-wide platform for debate and knowledge-sharing amongst our varied communities, both in the lead up to and at the event itself'.
For the full conference programme and further information please visit:
http://www.smi-online.co.uk/goto/adaptivedesigns58.asp
Alternatively contact Cem Tuna on +44 (0)20 7827 6736 or email him at ctuna(at)smi-online(dot)co.uk
About SMi Group
Established since 1993, the SMi Group is a global event-production company that specializes in Business-to-Business Conferences, Workshops, Masterclasses and online Communities. We create and deliver events in the Defence, Security, Energy, Utilities, Finance and Pharmaceutical industries.
We pride ourselves on having access to the world's most forward thinking opinion leaders and visionaries, allowing us to bring our communities together to Learn, Engage, Share and Network. We hold events in over 30 major cities throughout the world including London, Paris and Singapore and to date have welcomed over 200,000 participants from 80 countries.
For more information, please visit http://www.smi-online.co.uk/pharma