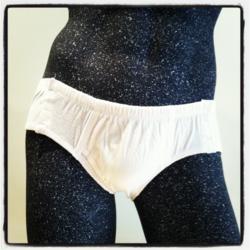 "People living with disabilities are sometimes referred to as the world's largest minority – so why should product innovation be anything but alive and kicking"
London, UK (PRWEB UK) 26 February 2013
Easy Adaptive Wear today announced the launch of their brand new disposable underwear range, the first adaptive disposable product on the market to be made from cotton and with a unique Velcro open/close mechanism.
According to recent statistics from The United Nations, over 1 billion people live with some form of disability*. And apart from the lucky few, most of us have, at some stage of our lives, experienced short or long-term impairment to our mobility.
Made from cotton with Velcro tabs to both front sides for easy on/off application this innovative product is a fresh take on the adaptive clothing market. Designed for those who find it difficult to put on underwear in a conventional manner, this new disposable underwear range is a comfortable and practical alternative to other paper or netting products currently on the market.
"We want to offer a product that not only helps people under sometimes challenging circumstances, but also looks good and feels comfortable to wear. We also had carers and healthcare professionals in mind when we designed these products. Helping someone put on underwear is a two person procedure in the care industry – and certainly not the most dignified for patients either – however with these products it is easy for a single carer to help someone, with the added bonus of that person experiencing only a minimum of lifting and shifting," says Sarah Brooks, Client Service Manager with Easy Adaptive Wear.
Healthcare professionals and carers are prone to strain injuries due to the physical demands of the jobs and tasks they undertake. With the quality of care paramount to hospitals, care homes, nursing homes and rehabilitation centres; product development within the industry should focus on quality and practicality as well as dignity and ease of use for patients and carers alike.
"We are proud of our adaptive underwear design. Any product that can benefit those with disabilities or mobility issues – and at the same time reduce strain on carers – gets our full attention," said owner Geir Holmer.
"People living with disabilities are sometimes referred to as the world's largest minority – so why should product innovation be anything but alive and kicking," said Holmer.
ABOUT EASY ADAPTIVE WEAR Ltd.
Easy Adaptive Wear Ltd is a specialist provider of adaptive clothing for consumers, hospitals and care homes. The company was founded in 2012 and is registered in the UK. For more info, see http://www.easyadaptivewear.com